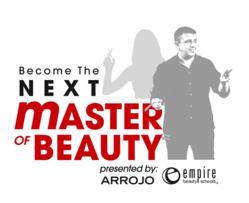 It's great to see so many stylists getting involved.
New York, NY (PRWEB) April 26, 2011
Professional stylists across the country are sharing their best work in hopes of winning a spot on stage at Empire Education Group's Masters of Beauty. The online contest, which asks stylists to upload a photo of their work into one of three categories—cutting, coloring, or styling—is currently accepting first round entries. The first place winner receives a high–end education package that culminates with the opportunity to present on stage with Nick at selected Tour of Beauty dates in 2012, plus $10,000. Empire's award-winning Masters of Beauty Skills Certification Program, featuring hands-on training with Nick Arrojo, has been touring the country since last year.
"It's great to see so many stylists getting involved." says Arrojo. "The most important thing for entrants to remember is to make their photo all about the hair. I am really looking at the lines, the shapes and the color placement. Already, I am seeing some great examples of excellent cutting, coloring and styling." To watch Nick look over the entries, follow the link: http://www.youtube.com/watch?v=kSZgqLKYKtw.
Stylists wishing to enter can register and upload a photo of their work onto the contest's Facebook page http://www.facebook.com/mastersofbeauty. There, they can enter one of three categories—cutting, coloring, or styling. The public will vote, and then combined with input from Nick and his team, quarter-finalists will be chosen and asked to upload 2-3 minute videos highlighting them and their work. From 10 semi-finalists, 3 finalists will travel to New York City to vie for the coveted title, announced at the International Beauty Show in New York City in March 2012.
Second and Third Place winners also receive a cash prize, three Masters of Beauty Skill Classes and the opportunity to attend a Beauty Systems Group event.
A complete list of prizes and contest rules can be found on the contest web site http://www.facebook.com/mastersofbeauty.
Stylists are invited to enter the opening round immediately. Quarter-finalists will be chosen October 5, 2011.
Tickets are now on sale for the Masters of Beauty Tour in New York City June 12, 2011. A complete schedule of tour dates and skill classes can be found at http://www.mastersofbeauty.com.
For more information on Empire Education Group, visit http://www.empire.edu.
Empire Education Group provides quality in cosmetology education, offering students many of the finest training tools and facilities. For over 80 years, Empire has grown to become one of the largest providers of beauty and cosmetology education in North America. Empire's 102 accredited cosmetology schools in 21 states and use exclusive Certified Learning in Cosmetology (CLiC) education curriculum; the company prepares students for successful careers in cosmetology (hair care, skin care, and nail care).
# # #