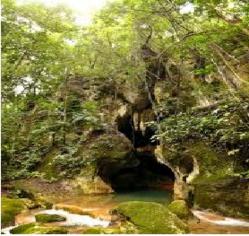 Eco-tours allow you to see Belize for a minimum price. These packages help increase the number of eco-tourists holidaying in Belize; help preserve the amazing bio-diversity of the region, and improve the standard of living of Belizeans.
Belize (Vocus/PRWEB) April 23, 2011
Experience Belize's Actun Tunichil Muknal Cave and New River Systems through Eco-Tour Programs designed to educate travelers while improving the standard of living of many Belizeans. The Actun Tunichil Muknal Cave was discovered in 1989 and has rapidly become one of Belize's most famous cavern systems. Tropic Horizon has added the ATM Cave tour to its excursion packages. Adventurers will visit an ancient ceremonial Burial Chamber filled with secrets and artifacts of the ancient Mayan culture. The burial chambers in the Actun Tunichil Muknal Cave are the most well-preserved archeological sites today. Here lay the famous remains of "The Crystal Maiden," a teenage girl whose bones have been completely preserved by the cave. Unlike most other caves discovered throughout Belize, passage through the ATM Cave is regulated by the Belize Department of Archeology and only a few select guides have permission to pass through. It is for this reason that the ATM cave remains rich in history and ritual and has not been looted of its ancient artifacts.
The ATM tour includes treks through the nearby Tapir Mountain Nature Reserve, as well as underground passageways and caves dating back 2000 years. This tour is challenging in its degree of difficulty. Adventurers must be in good physical fitness and the ability to swim is required. Tropic Horizon recommends that adventurers who are uncomfortable in enclosed spaces may want to avoid this particular Belize cave tour. Other caves in the area include Blancaneaux Cave and Skeleton Head Cave. These caves flourish with ancient Mayan relics and history. For those who prefer to go it alone, Tropic Horizon's Rio Frio cave tour, a large cavern located in the Mountain Pine Ridge area, does not require a guide.
"Tours were very good, but the ATM (cave tour) was beyond expectation & imagination - like an Indiana Jones adventure!" -- Karen Lindquist
In addition to supplying cave tours to tour operators, Tropic Horizon is now also including within its tour excursion packages guided canoe and kayak tours of The Barton Creek a 4.5 mile long cave that is covered in large geological speleothems including stalactites and stalagmites.
About:
Tropic Horizon is a travel wholesaler specializing in Belize tour packages, hotel accommodation packages and excursion offerings. They have been in business since 1995. Questions can be emailed to info(at)tropichorizon(dot)com. For more tours and information, visit http://www.tropichorizon.com.
# # #