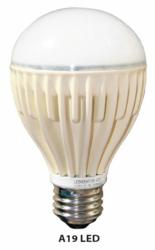 By selectively applying basic cost optimization, the ImproveLite™ A19 provides a segment-leading solution without the substantial compromises with which the others have apparently had to settle," - Israel Morejon
Tampa, FL (PRWEB) April 26, 2011
LED Replacement Lamp Leader LEDnovation Introduces Contractor-Grade ImproveLite™ Line with A19 Offering Cost-optimized LED replacement lamp solution targeted on 8-hour or less daily use and other cost-sensitive installations
LEDnovation, a principal innovator in LED lighting and replacement lamp technology, today announced the introduction of its new ImproveLite™ A19 LED, offering 385- and 565-lumen versions at 3000K to effectively replace 40- and 60-watt incandescent and halogen lamps in downlights and other semi-directional applications. The ImproveLite™ A19 LED has been cost-optimized to place the benefits of higher-efficiency, lower-maintenance LED lighting in cost sensitive applications. In addition, the ImproveLite A19 LED provides significantly improved quality of light and color over less-efficient compact fluorescent alternatives, all while featuring dimming to 15% and instant-on response.
Israel J. Morejon, CEO of LEDnovation, commented, "The ImproveLite™ A19 is the first realization of our multi-tier strategy to address the breadth of incandescent and compact fluorescent replacement opportunities. Our 100 lumen-per-watt warm white EnhanceLite™ A19 is seeing rapid adoption in higher-end applications, so it only made sense to engineer a new line to serve less demanding applications. We expect to see strong adoption of the ImproveLite line in commercial environments as well as facilities that operate even less than 12-hours per day. By choosing precisely which features to cost-optimize, we were able to deliver change without compromise into these target applications."
The ImproveLite™ A19 LED is expected to enjoy rapid acceptance in contractor-driven applications, which can include high-efficiency residential designs, or commercial lobby and common-area spaces. Such installations are most typically served by inefficient halogen or unattractive compact fluorescent solutions, neither of which are optimized for downlight installations. With a color rendering index (CRI) Ra above 90, a high saturation of deep red color rendering R9 and a 3000K color temperature (CCT), the ImproveLite™ A19 LED will integrate seamlessly with existing halogen installations while reducing energy consumption by a factor of 4 or more.
"After hands-on experience with a number of 'Edison' replacements that can be found in big-box retailers, we were surprised at how poorly they performed, given the generally positive reputations of the companies involved. Whether it was inferior dimming performance or high variability in the color temperature, we felt they reflected badly on the LED lighting industry as a whole. By selectively applying basic cost optimization, the ImproveLite™ A19 provides a segment-leading solution without the substantial compromises with which the others have apparently had to settle," Morejon concluded.
ImproveLite™ LED A-Lamp 3000K Family Details:
ImproveLite™ A19 LED, 3000K warm white
Standard output: 5.9W, 385lm (typically used to replace 40W incandescent)
High output: 8.0W, 565lm (typically used to replace 60W incandescent)
All models are optimized for downlight applications.
All specifications are average values.
LEDnovation lamp models are tested for photometric performance in accredited third-party labs according to IES LM-79 requirements, with reports available online. All lamps meet UL 1993, UL 8750 and CSA 84 safety standards. These contractor grade models carry 50,000-hour manufacturer lifetime rating, with a 3-year warranty and unlike many CFL and LED offerings, fully conform to ANSI standard form factors to assure compatibility with existing fixtures.
About LEDnovation - Change without compromise
Offering a full complement of LED-based replacement lamps, LEDnovation is leading innovation in the field of solid state lighting. Solid state, or LED lighting generates light from complex semiconductor materials, eliminating much of the wasted energy that has been inherent to electric light-generation for over a century. By combining multi-disciplinary strengths in electronic systems, power supplies, thermal and optics design, LEDnovation has succeeded in developing one of the highest efficacy LED replacement lamp lines available, offering a winning business case and rapid return on investment to commercial clients and property operators. The company is headquartered in Tampa, Florida and manufactures its products in the US. For more information, visit http://www.LEDnovation.com
or call +1 (813) 891-9665.
Editorial Contact:
Bill Blackley
VP Business Development
tel (614) 214-5889
bill_blackley(at)lednovation(dot)com
###