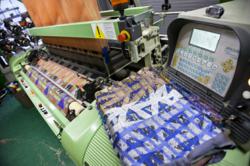 The Textiles Summer Institute at Rhode Island School of Design gives artists and designers from outside the RISD community unprecedented access to the RISD curricular approach.
Providence, RI (PRWEB) April 25, 2011
Rhode Island School of Design's Textiles Department offers a new Textiles Summer Institute in Summer 2011, a program of intensive courses in knit, weave and surface design.
The Textiles Summer Institute courses, offered June 13-July 22, 2011 on the RISD campus in Providence, RI, are a unique opportunity for fine artists and designers to learn with acclaimed faculty members and utilize RISD's outstanding textiles facilities.
The Institute's one-, two-, and three-week courses, which can be taken individually or in a customized series, allow individuals to develop their ideas through material investigations using the RISD Textiles Department's extensive yarn collection, technical support, and advanced electronic equipment, including a computerized Stoll CMS 330 knitting machine, 24-harness computer-interfaced dobby looms, an industrial jacquard power loom, Mimaki fabric printer, and 15-needle Tajima commercial embroidery machine. Students also participate in field trips to local textile mills, visits to the RISD Museum Costume and Textiles Collections, and lectures by renowned Textiles Department faculty.
The Institute gives artists and designers from outside the RISD community unprecedented access to the RISD curricular approach. Explains Anais Missakian, professor and department head of textiles at RISD, "Encouraging students as they express their ideas with their minds and hands, and then supporting them as they integrate and execute that handwork with solid skills in advanced technologies, is at the core of the Textiles Department's instructional philosophy."
Textiles Summer Institute courses include: Industrial Knitting (June 13-24), Machine Knitting (June 13-July 1), Machine Knitting Intensive: Double Bed Ribber (July 5-8), Weaving Complex Structures on Computer-Interfaced Dobby Looms (June 13-July 1), Jacquard Woven Textiles (July 5-15), Digitally Printed Fabrics (July 11-15), Embroidery Design (July 18-22), and Embroidery + the Digital Sewing Machine (June 27-July 1).
Visit summer.risd.edu/textiles for complete course descriptions and faculty bios, along with tuition, credit, dining, housing, and registration information.
About Rhode Island School of Design Summer Programs
The Textiles Summer Institute and RISD Summer Programs are administered by the Rhode Island School of Design Office of Continuing Education. In addition to the Textiles Summer Institute, RISD Summer Programs include the Summer Institute for Graphic Design Studies (SIGDS), Summer Studies six-week courses and two-week intensives, Study Abroad Programs, the Career re:Design Program, the Pre-College Program, and summer Continuing Education courses for adults, teens and children. Visit risd.edu/summer for more information.
# # #