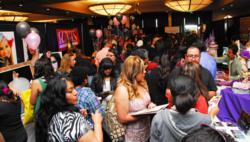 Since one out of every six teens in the United States is of Hispanic origin, every day there are more Quinceañeras looking forward to celebrating their fifteenth birthday
Los Angeles, Ca (PRWEB) April 21, 2011
With the 2010 census showing the Latino population growing extensively throughout the country, it comes as no surprise that the Quinceanera industry is booming as well.
The growth percentage of the Latino population becomes more evident among those under the age of 18. Since one out of every six teens in the United States is of Hispanic origin, every day there are more Quinceañeras looking forward to celebrating their fifteenth birthday by having a huge celebration. This brings a high demand for Quinceañera party related services such as dresses, makeup, transportation, catering, videography, photography, and venue rentals.
In anticipation of this growth, El Clasificado launched Quinceanera.com in 2006, to cater to the needs of Quinceañeras and their families, as well as connect them to businesses serving and creating fabulous Quinceañera parties.
Over 50 exhibitors offering diverse products and services were flocked by 2,000 enthusiastic girls and families, testing cakes, looking for the best DJs and photographers, and, most importantly, securing the best deals at the most recent Quinceanera.com Expo, held on April 10th at the Quiet Cannon banquet facility in Montebello, CA.
"I loved the expo! My parents and I stopped at every exhibitor's display, but my favorite part was definitely the fashion show," stated Tiffany Martinez, future Quinceañera and Pomona resident.
The fashion show displayed designs by Roxana Porres of Roxy's Bridal, whose participation in the April 10 event marked her third time showcasing at the Quinceanera.com Expo. With her experience in the series, Roxana has learned how to reach this growing market in a unique way. Her designs vary from contrasting patterns, bright colors, animal print, and are even offered in dynamic designs that can be worn either as a full gown or as a miniskirt, to accommodate to all fashion senses. According to Roxana, if the Quinceañera girl can imagine her dream dress, she can create it. "This event has become sensational amongst the girls! I highly recommend parents to come prepared to find excellent price quotes for dresses to everything they need for their party in just one place."
The participation of Roxy's Bridal in the Quinceanera.com Expo has enabled Roxana to also reach an international audience; the expo's Youtube video has helped sell her designs in Mexico and Argentina. "Thanks to the Quinceanera.com Expos, our popularity has risen and I will gladly continue to be a part of this," she adds.
The next "Quinceanera.com Expo and Fashion Show" will take place on June 5th at the Crowne Plaza Anaheim Resort in Orange County. The 2011 Expo series will continue on September 25th in Ontario, and on October 16th in San Diego.
Quinceanera.com is a multi-platform party-planning brand that integrates web, newsletters, a print supplement, mobile, and live events to reach bilingual Quinceañeras and their families. The Quinceanera.com Expo is presented by El Clasificado, a print and verified publication with a weekly circulation of 460,000 and a weekly readership of more than 1.5 million. El Clasificado is distributed to more than 250 cities in Southern and Central California.
For media inquiries or for additional information, please call Alicia Monsalve at 1-800-450-5852 or via email at amonsalve(at)elclasificado(dot)com
###