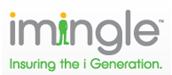 The tool makes the whole process of dealing with auto insurance simple, convenient and efficient, so [policyholders] can get on with life.
Chicago, Illinois (PRWEB) April 25, 2011
iMingle (TM) announced today the launch of a new application for iPhone, designed to provide drivers with a more convenient way to manage their auto insurance policies anytime and anywhere. The iMingle.com iPhone app is the latest tool from a company built around the needs and expectations of a techno-centric consumer.
iMingle launched in Fall 2010 with a new marketing approach for direct-to-consumer insurance aimed at what the company calls the i Generation, those consumers who expect technology and service to work together to make life easier. iMingle is also the first in the industry to offer group buying for individual policyholders with significant discounts that reward customers for two things they are already doing: using social media and buying insurance.
Available for download on the App Store℠, the iMingle.com iPhone App allows policyholders to:

Access their policies 24 hours a day, seven days a week
Make payments instantly online
Report a claim and submit photos of the accident
Gather witnesses and police reports
Connect to a claim representative
Get assistance with alternative transportation – taxi, tow truck or rental car
Update their policy contact information
Access the iMingle Network discount link (widget to qualify for group discounts by linking to friends through social networks)
Get a quote for Renters Insurance
"Our app for iPhone is just another way we are using technology to deliver better service for our customers," said Michael Z. Stahl, iMingle's vice president of marketing and operations. "We understand that customers have other priorities in their days besides paying bills and managing claims after an accident. That's why we wasted no time in developing a tool that makes the whole process of dealing with auto insurance simple, convenient and efficient, so they can get on with life."
Links to the iMingle app, which works with iPhone 4, iPhone 3GS, iPhone 3G and the original iPhone, can be found on the iMingle website at http://www.iMingle.com and http://www.iMingle.com/mobile-apps/iPhone.
Auto insurance from iMingle is currently available in 13 states: Pennsylvania, Michigan, Illinois, Indiana, Missouri, Minnesota, Colorado, Nevada, Oregon, Wisconsin, Virginia, South Carolina and Iowa. Select states also offer homeowners, renters and condo insurance.
Connect with iMingle and its highly sociable green mascot, iMingle Max, on Twitter and Facebook.
(Please note: The term "group buying" as used in this press release is intended to mean collective buying in the social context and not the purchasing of insurance as part of an employer-sponsored group or other affinity association.)
iMingle is part of Unitrin Inc. (NYSE: UTR), which has over $8 billion in assets and an A- (Excellent) Rating from A.M. Best for insurance operations. More information is available at http://www.iMingle.com or by calling 800-315-0473.
Apple and the Apple logo are trademarks of Apple Inc., registered in the U.S. and other countries. iPhone is a trademark of Apple Inc. App Store is a service mark of Apple Inc.
###