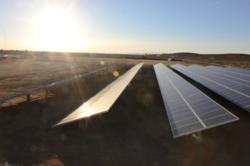 The three Conergy installations produce a total of around 705 megawatt-hours of clean solar energy per year; avoiding the emission of more than 500,000 lbs of harmful CO2 greenhouse gases
Sacramento, CA (PRWEB) April 25, 2011
With the new Conergy solar energy system, students of all ages at the Muroc Unified School District will now experience clean solar energy and learn about sustainable energy generation. The three installations, with a total power output of nearly 400 kilowatts, are on the grounds of the schools' district office, the West Boron Elementary school and the Boron Senior High school. The solar energy systems will provide 80% of the school district's energy consumption, reducing its utility bill by 95%. These benefits are made possible by Conergy's clean solar power systems, comprising nearly 1,700 Conergy modules. Total expected savings to the district over the system's 30 years expected lifespan is approximately $3 million— with no out of pocket or up front expenses to the district. Solar energy finance company, Enfinity, delivered funding for the project through a Power Purchase Agreement.
"We are glad to have the opportunity to install solar power on Muroc's school grounds", says Conergy's David Vincent, Project Development Manager. "Being exposed to solar energy, the students get a feel for the effectiveness and accessibility of sustainable energy while increasing their environmental awareness. In sunny California in general, and Muroc in particular, the clean energy future is becoming a reality."
Pupils and school staff are proud of their solar plant. "The three Conergy installations produce a total of around 705 megawatt-hours of clean solar energy per year; avoiding the emission of more than 500,000 lbs of harmful CO2 greenhouse gases", explains Byron Johnson, Muroc Unified School District Assistant-Superintendent. "This is as much electricity as one hundred Californian households consume annually. By creating our own energy, students and staff become more aware of their energy use and are inspired to use energy wisely. This helps us to encourage 'green learning', by producing clean energy and using less energy whenever possible."
About Conergy USA
Only Conergy delivers solar energy systems from a single source. As a system manufacturer, Conergy produces all components for a solar installation and offers all services under one roof. With its modules, inverters and mounting systems, the solar expert creates Conergy System Technology, which is efficient and synchronized solar energy systems for private or commercial rooftops, as well as for multi-Megawatt Parks.
Conergy System Services deliver a "Worry-Free Package" for Conergy solar installations. Conergy's experts not only install on-site turn-key solar projects, but they also manage the planning and financing, project implementation, system monitoring, operation and on-going maintenance of the project for maximum performance. With this comprehensive technology and service package, Conergy offers yield insurance for its installations.
Conergy System Sales brings Conergy premium products to nearly 40 countries. The solar expert supports homeowners, installers, wholesalers and investors in their efforts to "go solar" through deep-rooted local operations in 18 countries. With sales activities on five continents, Conergy has close relationships with all its customers. Listed on the Frankfurt stock exchange, Conergy employs more than 1,700 people worldwide. Since Conergy's founding in 1998, it has produced and sold more than 1.5 GW of clean solar power.
Through its acquisition of well-established local companies, Conergy began operating as a distributor and project developer in North America in 2005 and currently has 5 offices, 4 warehouses and 3 production sites in the region. Conergy manufacturers mounting systems in Sacramento, CA. In Ontario, Canada Conergy produces modules and mounting systems that meet local content requirements for the Provincial FIT. In addition, Conergy operates a Project Group that develops and operates large-scale systems. Through these activities, Conergy maintains expert knowledge about local market conditions and requirements.
Please contact us if you have any questions or requests.
###