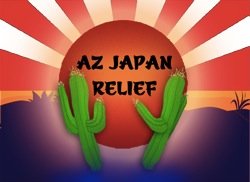 Together, we are making a difference for those affected by the horrific natural disaster in northern Japan. The friendship pin is a wearable symbol of support.
Grand Rapids, MI (PRWEB) April 22, 2011
Terryberry, a company known for providing employee recognition programs, has recently designed custom jewelry to show support for those affected by the crisis in Japan. The project came about when company leaders became aware of an employee with a personal connection to the disaster. In response, the company formed a project team made up of 20 employees to design, handcraft, and market custom jewelry mementos inscribed with the Japanese symbol for friendship. Terryberry has earmarked 100 percent of the proceeds from sales of the jewelry items to aid Japan through the American Red Cross Japanese Earthquake Relief Fund.
The yellow-gold-filled or sterling silver pendant and tac can be purchased online at http://azjapanrelief.terryberry.net/.
Beverly Washichek, a recently hired employee of Terryberry, was born and raised in Japan and had begun an effort to raise funds for those affected by the disaster. The company's leaders came alongside Washichek to support her efforts. Terryberry, which produces symbolic jewelry for employee recognition programs, used its design and manufacture process to create the custom pendant and lapel tac signifying support for Japanese aid.
"Beverly has been active in her support of relief efforts in Japan and our team felt compelled to be a part of the effort," said Mike Byam, managing partner of Terryberry.
Washichek was recently hired to support the marketing department in Terryberry's Scottsdale, Ariz. location. She was born and raised by missionary parents in Japan and lived in Hiroshima until she was 18 years old. Washichek returned to Japan after college to teach for several years. While living in Arizona for the last several years, Washichek has become an active volunteer in the state's Japan-related activities. Following the disaster, Washicheck joined other individuals from Arizona with ties to Japan, vetted several charitable organizations taking donations for relief efforts and created a website, http://www.azjapanrelief.com, to help potential donors identify reputable relief organizations.
"I feel very far away from those in need in Japan and there is that feeling of 'what can I do?' I am warmed with the knowledge that I work with a group of people with great energy and philanthropic values," said Washichek. "Together, we are making a difference for those affected by the horrific natural disaster in northern Japan. The friendship pin is a wearable symbol of support."
The gold or silver mementos are individually boxed and cost $50 for sterling silver and $75 for the gold-filled jewelry. The design uses the famous Japanese artist Hiroshige's woodblock of a wave (circa 1700s) inscribed with the Japanese characters that represent the Japanese words tomo, which means friend, and dachi, to reach out. Together, the words translate into a message of friendship. The United States military's Japan relief effort is called "Operation Tomodachi."
The mission of Terryberry is to help organizations provide their people with special recognition for contributions and achievements. Based in Grand Rapids, Mich., Terryberry develops and manages employee recognition programs for more than 25,000 organizations worldwide.
# # #