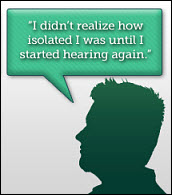 Some seniors will celebrate their independence and vitality during Older Americans Month by helping other seniors enjoy life to the fullest too.
Eden Prairie, Minnesota (PRWEB) April 25, 2011
May is Older Americans Month, and what better time to remind seniors and their families of the importance of healthy hearing to an active and vibrant lifestyle?
Older Americans Month celebrates the vital contributions that seniors make to their communities – volunteering with youth, taking a leadership position in their neighborhoods and strengthening the fabric of families in their roles as trusted caregivers.
Another important way that seniors help is by serving as examples and mentors to others who are beginning to experience hearing loss. Seniors who recognize the early signs of hearing loss, and seek hearing loss treatment quickly, are the "early adopters" - often serving as role models for peers who may be less enthusiastic about the prospect of wearing hearing aids.
The National Council for Better Hearing and Hearing-Aid.com caution against waiting too long to be seen by a hearing specialist when hearing loss is suspected. With untreated hearing loss, the sheer effort required to communicate causes fatigue, irritability, negativism and anger, tension, stress and depression.
Hearing loss can also lead to avoidance or withdrawal from social situations, making life even more difficult and lonely for seniors who have already seen their social circle shrink due to aging and illness in friends.
Seniors who have been fitted with hearing aids and have re-trained their brains to hear with these life-changing devices can offer valuable encouragement and support to friends and neighbors of all ages who are struggling with hearing loss. Many communities have hearing loss support groups that are associated with the Hearing Loss Association of America. Audiologists and hearing specialists sometimes host support groups at their offices, so there are opportunities to volunteer and share knowledge and experience with people who are looking for information and guidance about hearing problems.
Hearing-Aid.com has some helpful online tools for anyone interested in starting a hearing loss or hearing aids support group in their community. The Hearing Loss Questionnaire and Hearing Aids Questionnaire are ideal for starting a conversation about hearing loss with friends, family and colleagues. The website also features a hearing loss simulator and an online hearing test that could be helpful in getting a peer with hearing loss to recognize and accept the need to be seen by a hearing specialist.
As Older Americans Month approaches, seniors throughout the country will be celebrated for their valuable contributions to their neighborhoods, places of employment, churches and schools. Many civic-minded seniors will be looking for new and unique ways to stay involved and remain an active member of their communities.
Some will celebrate their independence and vitality by helping others enjoy life to the fullest too. Forming a support group for hard of hearing peers, volunteering knowledge about the experience of wearing hearing aids, or just reaching out to people who are having a difficult time accepting the fact that they need hearing aids could be their next important life chapter.
For more information about hearing loss, hearing aids and helping a friend or neighbor with hearing problems, visit Hearing-Aid.com.
# # #