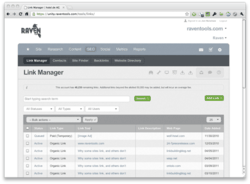 "My favorite part is how well organized it is. It's much more intuitive now."
Nashville, TN (PRWEB) April 26, 2011
Raven got a new set of wings today.
The Raven team released a user interface upgrade to the popular Raven Internet Marketing Tools platform. The new design reorganizes a wide range of tools and streamlines workflow even more than previous versions.
Raven's Internet marketing customers, whether they work for a marketing agency or as in-house professionals, will find the system faster and simpler.
"We wanted to make the user interface more cohesive and easier to use, with a heavier focus on viewing and managing data," said Jon Henshaw, director of product innovation. "We also wanted to set the stage for our product road map."
Major enhancements include:

A simpler, more logical navigation. The Raven platform contains nearly 30 individual Internet marketing campaign tools that have been reorganized into five main categories. "The updated navigational structure allowed us to better organize our existing tools, while leaving room for tools we plan to release later this year," Henshaw said.
New icons for common tasks. Raven has always been designed to speed up tedious work; more one-button actions for repetitive tasks including importing, exporting and reporting continue that philosophy. "My favorite part is how well organized it is," said Taylor Pratt, Raven's vice president of product marketing. "It's much more intuitive now."
Clean, modern design. The platform's neutral, muted colors are a good starting point for Raven customers who white-label the system.
With this new user interface, Internet marketing agencies and in-house professionals who specialize in SEO or social media will find Raven even more than just essential—they'll find it a pleasure, too.
About Raven Internet Marketing Tools
Raven Internet Marketing Tools online software helps customers quickly research, manage, monitor and report on SEO, social media, email and other Internet marketing campaigns. Its collaborative, multi-user features and fast, professional reports make it the software choice of thousands of online marketers worldwide. Raven Internet Marketing Tools, a privately-held Nashville-based company, was founded in 2007.
###