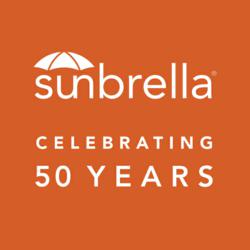 "Sunbrella's fashion-forward fabric line makes it possible for your outdoor décor to complement the colors used in interior rooms," says Lori Cropp, merchandise manager for the Calico Corners – Calico Home stores.
Kennett Square, PA (PRWEB) April 21, 2011
When Sunbrella™ acrylic fabrics were first presented to Calico Corners buyer Evans Kiorpes in the 1960s, the salesman made an indelible impression. "He pulled out this new acrylic fabric that had been buried in a Tennessee swamp for five years," recalls Kiorpes. "It had been washed, of course, but the Sunbrella was still in great condition!" While an extreme example, the swamp burial illustrated the performance features of this revolutionary acrylic fabric that still apply today: Sunbrella strongly resists mold, mildew and fading, plus it's cleanable with soap and water—or even bleach.
In the 1960s, Sunbrella came in just six solid colors and was only about 30" wide—perfect if you were making a log carrier or needed canvas for a sling chair. And of course, it was ideal for boat cushions or outdoor cushions by patio or pool. "The cushions never rotted and we never had a complaint about Sunbrella," states Kiorpes, now retired. Wide stripes were added later—in the same six colors. No need to confuse the customer with too many choices.
Today, hundreds of 54" Sunbrella fabrics are sold at Calico Corners – Calico Home stores and not just in canvas solids. The Sunbrella furniture book plus outdoor fabrics from the Country Living collection are available in all stores. "Sunbrella has really stepped up its styling in the last 15 years," noted Jan Jessup, director of communications. "Sunbrella fabrics now come in jacquards, damasks, heavy textures, chenilles, matelassés, velvets, sheers, plus ikat and embroidered looks—in addition to colorful canvas solids, twills, textures and stripes."
Sunbrella is no longer just a fabric for outdoor use. In the 1990s, a furniture line with a softer hand was introduced. The Calico stores began offering those fabrics for family rooms, garden rooms, dining rooms and kitchens. "They're ideal for any room where the light is strong, where the family congregates, or where food or drink prevail," notes Calico merchandise manager Lori Cropp. "When the pizza ends up on the sofa, it's not a disaster. A little dish soap and water will take care of the mess."
And with the growth of outdoor kitchens and entertainment centers, Sunbrella-covered upholstered furniture, cushions and pillows are right at home. "Their fashion-forward fabric line makes it possible for your outdoor décor to complement the colors used in interior rooms," adds Cropp.
In addition to its Sunbrella offering, the Calico stores also offer quick-drying Marine foam in their custom-made pillows and cushions. "Just bring in your old covers, and we'll use them as a template," says Cropp. The Calico selection of hundreds of styles of high performance indoor-outdoor fabrics gives customers many more choices than available in ready-made cushions or catalog offerings.
Back to the Beginning
When Sunbrella was introduced by Glen Raven, a manufacturer of cotton awning fabrics, it was testing a new acrylic fiber created by Monsanto in the late 1950s. The color was crafted into the fiber so it runs all the way through—the yarn is not surface dyed. This is what makes the fiber fade resistant. Glen Raven was so impressed by this new synthetic that they created the brand name Sunbrella and gave this durable acrylic fabric a five-year warranty, a first for awning fabrics.
Over the past 50 years, Sunbrella has become the dominant brand in marine use, casual and outdoor furniture, plus convertible car tops—and a growing presence in residential home furnishings and commercial contract use. "We have incredibly strong partners in all of the markets we serve today," said Allen E. Gant, Jr. president of Glen Raven, Inc. That partnership with Calico Corners is almost as old as Sunbrella itself, as the stores were among the earliest retailers of this sturdy acrylic canvas.
Greenguard® Certified
Sunbrella furniture fabrics contribute to healthy indoor air quality and have been certified by the Greenguard Institute. These fabrics are very low emitting products and meet the Institute's Children and Schools standard. In addition, the Skin Cancer Foundation recommends Sunbrella shade products as an aid in the preventing sun-induced skin damage.
The New Sunbrella Kiosk Program
Calico Corners – Calico Home merchandise managers have chosen 25 stores to test a kiosk display of Sunbrella fabrics. Designed by Glen Raven, the kiosk conveniently displays136 Sunbrella fabrics in less than two feet of floor space and incorporates literature that supports the performance story. "The fabrics are shown in coordinated waterfall samples so that they are easy to shop," said merchandise manager Lori Cropp. "We're very excited about the potential for this fixture to increase the visibility of Sunbrella fabrics in the stores and further build brand awareness."
Stores with the Sunbrella kiosk are located in Arlington, VA; Austin, TX; Bellevue, WA; Charlotte, NC; Deerfield, IL; Marietta, GA; Edina, MN; Hinsdale, IL; Huntington Station, NY; Laguna Hills, CA; Lutherville, MD; Strafford, PA; Mamaroneck, NY; Houston, TX (on West Alabama St.); Mt. Kisco, NY; Natick, MA; Alexandria, VA; Pleasant Hill, CA; Richmond, VA; Rockville, MD; San Jose, CA; Short Hills, NJ; Hanover, MA; Tampa, FL; and Westport, CT.
About Calico
Calico Corners – Calico Home stores provide expert decorating advice and free in-home design consultation in more than 90 stores across the country. Consumers will find thousands of designer fabrics for the home at value prices; custom window treatments, blinds and shades; custom upholstered furniture, slipcovers, bedding and more. Thousands of fabrics are available online. For more information or to find the nearest store, visit http://www.CalicoCorners.com or call (800) 213-6366.
# # #