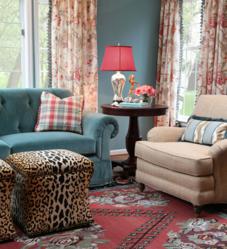 "We see animal patterned fabrics as a neutral," stated Greg Lawrence, vice president of creative affairs at the Calico stores. "They have a chameleon-like quality and can be as much at home in a very traditional room as well as a casual family room."
Kennett Square, PA (PRWEB) April 27, 2011
Home furnishings trends that used to be inspired by European fashion designers are now just as likely to be inspired by talent from American design studios, whether in apparel or home fashion. How else to account for the fact that many trends seen at the Maison & Objet winter show in Paris are already available in fabrics at the Calico Corners – Calico Home stores? Maison & Objet (literally, home and object) is an international trade fair held twice a year for tens of thousands of buyers of home furnishings, decorative fabrics, accessories, outdoor furniture, china, glass and kitchenware, bed and bath products, children's furniture and much, much more.
"The prevailing trend in nearly every stand at Maison was the use of animal patterns—they were everywhere!" observed Greg Lawrence, vice president of creative affairs for the Calico Corners – Calico Home stores. Animal prints were all over Paris too, he noted—in fashion, handbags, shoes and even on antique furniture in shop windows. "From leopard, cheetah and tiger stripes to giraffe, zebra and ostrich hides, it's a real jungle out there," said Lawrence. Leopard spots have long been a staple of the fashionistas, but now this trend is mainstream and can look smart in almost any room, he added.
"At Calico, we view animal patterned fabrics as a neutral," stated Lawrence. "They have a chameleon-like quality and can be as much at home in a very traditional or formal room as well as a casual family room."
Patterns with birds or feather motifs are also popular on both sides of the pond, noted Lawrence. From cranes to owls to peacocks, birds are prevalent in textiles and paper goods, he stated. Their shapes are sculptural, their plumage is colorful and decorating with bird patterns is a tradition that goes back centuries. The Calico stores have very graphic bird prints from designer Thomas Paul as well as traditional English linen prints with preening peacocks—and many more.
Tufting is another trend from Maison & Objet that was very prominent, said Lawrence. "It was on all styles of furniture from large, cushy chairs to dainty French-style chairs and settees to modern pieces that were biscuit-tufted."
Is it time for Victorian and Edwardian furniture to make a comeback? "Chairs in these styles, deeply tufted in bright fabrics, added a color accent in many stands that featured gray shades as a backdrop," recalled Lawrence. Tufting is a way of adding dimension to more contemporary furniture frames and ottomans, giving them depth and visual interest. Velvets also work very well on tufted pieces.
"Speaking of gray, it's clear that this is definitely the new neutral for style setters," he added. For many years, brown was the grounding neutral of choice for many interiors, noted Lawrence. "And of course, the color combination of chocolate and mocha browns with shades of aqua and seaglass is still popular." But gray was featured in interesting ways, he observed: smoky silver mixed with amethyst and pale sky blues for a romantic look; flannel gray paired with a blue that was deeper than periwinkle and close to an intense French blue.
Greens were also used with mid-range flannel grays. "A deep parrot green and shades of chartreuse were the most evident," said Lawrence. The deep gray shades ranged from charcoal to an inky, iron-gate hue and were either paired with the popular Belgian linen and bleached oak look or popped by bright accents of tangerine, raspberry, emerald or peacock blue.
"The thing that all of the gray neutrals had in common is that they were warmer, red-based grays," observed Lawrence. "Unlike the blue-based grays of the 1980s that were cold and a little too clinical or corporate, these new grays are warmer and friendlier," stated Lawrence. These current grays are easier to live with and were seen in both traditional and more modern settings.
Honeysuckle, Pantone's 2011 Color of the Year, was very evident at Maison & Objet, noted Lawrence. "This happy raspberry shade was often paired to punch up grays, but was also used in abundance with other saturated brights," said Lawrence. "The vibe it created was one of cheer and optimism."
The global chic and ethnic trend seen all over Paris was also strongly visible at Maison—ikats, batiks, paisleys and the large round Suzani motif was used on everything from draperies to furniture, pillows, screens and tableskirts. "Even the trendsetters and fashionistas at the show were sporting dresses, scarves, shirts and bags that highlighted this trend," commented Lawrence.
About Calico Corners
Calico Corners – Calico Home stores provide expert decorating advice and free in-home design consultation in more than 90 stores across the country. Consumers will find thousands of designer fabrics for the home at value prices; custom window treatments, blinds and shades; custom upholstered furniture, slipcovers, bedding and more. Thousands of fabrics are available online. For more information or to find the nearest store, visit http://www.CalicoCorners.com or call (800) 213-6366.
###