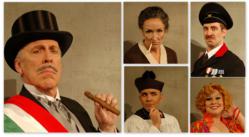 Vienna, VA (PRWEB) April 21, 2011
The Wolf Trap Foundation for the Performing Arts proudly presents the world premiere of John Musto and Mark Campbell's The Inspector, a brand new comedy from the team who brought the world the GRAMMY-nominated Volpone, Wolf Trap's first commissioned opera. The Inspector features singable and expressive melodies in John Musto's accessible but sophisticated style paired with an incisive, yet laugh-out-loud libretto by Mark Campbell.
The Inspector is loosely based on The Government Inspector by Nikolai Gogol. Musto and Campbell's opera is moved to Sicily, where the mayor of the fictitious down-and-out Santa Schifezza enjoys a corrupt and unchallenged rule. The town is thrown into a panic when they hear that an inspector from Mussolini's regime may be visiting their town. This rumor coincides with the arrival of Tancredi and Cosimo, who are running away from Rome. Tancredi is mistaken for the anticipated inspector, and when he exploits this case of mistaken identity, the mayor and his cronies engage in increasingly elaborate levels of cover-ups and subterfuge.
"When it comes to mendacity, greed and corruption, The Inspector takes up where Volpone left off," said Musto, composer of the new work. "Only this time the scoundrels are in public office. They're craven, they're duplicitous; they'll make you cringe, gasp and hide your wallet. They'll also provide loads of laughs and send you out humming."
Campbell's libretto serves up a modern day commentary on the often-times inherent bureaucratic and corrupt nature of government, while Musto's Mediterranean-flavored score paints a vivid picture of Sicilian society.
Commenting on the political implications of The Inspector, Campbell states, "I don't think this opera is critical of any political party, but it does criticize people who are enjoying a very fast rise in government and may be dispensing with their morals as they go."
Accomplished alumni of the Wolf Trap Opera Company (WTOC), the Foundation's acclaimed training and career development program for emerging professional opera singers will return to Wolf Trap to perform in The Inspector. Baritone Robert Orth (WTOC 1975,'76, '77) will perform the role of Mayor Fazzobaldi, mezzo-soprano Luretta Bybee (WTOC 1985) will play the mayor's wife, and soprano Anne-Carolyn Bird (WTOC 2007, '08) is cast as their daughter. The interlopers Tancredi and Cosimo will be sung by tenor Vale Rideout and baritone William Sharp. The production The Inspector was developed through workshops at Wolf Trap's Center for Education and with support from Opera Theatre of Saint Louis, Opera America's Opera Fund, and the National Endowment for the Arts.
The Inspector
Commissioned by the Wolf Trap Foundation for the Performing Arts
John Musto, composer
Mark Campbell, librettist
CAST
Robert Orth, baritone – Mayor Fazzobaldi
Luretta Bybee, mezzo-soprano – Sarelda, the Mayor's wife
Anne-Carolyn Bird, soprano – Beatrice, their daughter
Vale Rideout, tenor – Tancredi, mistaken for the inspector
William Sharp, baritone – Cosimo, Tancredi's traveling companion
Dorothy Byrne, mezzo-soprano – Malacorpa, Director of Hospital & Cemetery Services
Angela Mannino, soprano – Agrippa, Director of Education Managementation
Javier Abreu, tenor – Padre Ruffiano, Director of Salvation Resources
Matt Boehler, bass – Adolfo, Director of Order
Andrea Shokery, soprano – Bobachina, one of the Post Office twins
Sarah Larsen, mezzo-soprano – Bobachino, one of the Post Office twins
ARTISTIC TEAM
Glen Cortese, conductor
Leon Major, director
Erhard Rom, scenic design
David O. Roberts, costume design
Robert H. Grimes, lighting design
About The Wolf Trap Foundation for the Performing Arts
The Wolf Trap Foundation for the Performing Arts, a 501(c)(3) nonprofit, founded by Catherine Filene Shouse (1896-1994), produces and presents a full range of performance and education programs in the Greater Washington area, as well as nationally and internationally. Wolf Trap features three performance venues, the outdoor Filene Center and Children's Theatre-in-the-Woods, both located at Wolf Trap National Park for the Performing Arts, and The Barns at Wolf Trap, located down the road from the park and adjacent to the Center for Education at Wolf Trap. In partnership with the National Park Service, The 7,028-seat Filene Center annually showcases an extensive list of diverse artists, ranging from pop, country, folk, and blues to classical music, dance, and theater, as well as multimedia presentations, from May through September. The Barns operates year round, and during the summer months is home to the GRAMMY-nominated Wolf Trap Opera Company, one of America's outstanding resident ensemble programs for young opera singers. Wolf Trap's education programs include the nationally acclaimed Wolf Trap Institute for Early Learning Through the Arts, Children's Theatre-in-the-Woods, a diverse array of arts education classes, scholarships, and a nationally recognized internship program that was included in Bloomberg BusinessWeek's 2009 List of "Best Places to Intern." As part of its ongoing commitment to protect and preserve the environment, Wolf Trap offers metro access and is a founding member of the Green Music Group. Terrence D. Jones is president and CEO of the Wolf Trap Foundation for the Performing Arts.
Visit the Wolf Trap Web site at http://www.wolftrap.org for more information.
###