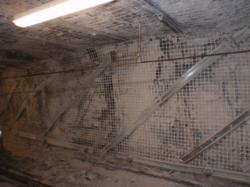 Burlington, NC (PRWEB) April 25, 2011
Glen Raven Technical Fabrics LLC, doing business in the mining industry as RJ Stern, has developed a lighter weight, easier-to-install grid material for use as a supplemental support in rib control systems in underground coal mines. The material, which will be distributed under the trade name, MineMesh™ , has received acceptance by the Mine Safety and Health Administration (MSHA) of the U.S. Department of Labor as a flame resistant product for use in mines. In addition, a recent test conducted by the National Institute for Occupational Safety and Health (NIOSH) confirms MineMesh is stronger than extruded grid product currently on the market. In situations where supplemental reinforcement is needed, mine operators install grid material over rib surfaces to help reduce the hazard of rock becoming dislodged and falling.
The polyester yarn construction used in MineMesh gives the material high strength, with a weight of five ounces per square yard. In performance tests conducted in an operating coal mine, MineMesh received high marks for its structural strength and handling characteristics. "The five ounce weight means a 78 inch roll of MineMesh weighs nearly 20 pounds less than other synthetic grid materials," said Jeffrey Michel, vice president of industrial fabrics for Glen Raven. "That reduced weight, along with its degree of flexibility makes MineMesh significantly easier for installers to work with," Michel said.
Justin Alberto, General Manager of RJ Stern, said improving rib support technology is increasingly important to the coal mining industry. "Innovation in this vital area of mine safety area has enabled operators to mine coal in places that were previously considered inaccessible. We are proud that we can be a part of the effort to protect miners while they work to sustain America's energy security."
###