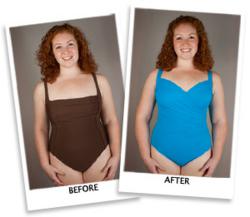 I felt like every curve was right where it was supposed to be and I felt confident in every inch of my body!
Easton, PA (PRWEB) April 26, 2011
Cyberswim, offering Miraclesuit swimwear in a wide selection of Misses sizes from 6 to 20 and Women's sizes 1X to 3X and Women's 16W to 24W, recently launched their 2011 Facebook Curvathon contest. Using photographs of some of the women who participated in a recent real-life swimsuit makeover, Cyberswim set sail to their Curvathon 2011 campaign on April 11, 2011. Cyberswim's Curvathon teams have an opportunity of earning at least 20 percent off of swimwear purchases to all team members, while Curvathon Team Captains have a chance to win a free suit, plus a $500 gift card. The Curvathon campaign closes on April 30, 2011, at the Cyberswim's Facebook Curvathon Event Page.
Cyberswim recently hosted a "swimwear makeover" by having several women at their Easton, Pennsylvania headquarters. Cyberswim asked each of the participants to bring in what they would normally wear to the beach, and then began the "makeover". Each woman tried on a suit that accentuated their features. By using swimsuits with styles that minimize the waist line and offer tummy control; Cyberswim transformed each lovely lady into a beach-ready beauty. Participant Shannon Munley raved over her experience. After trying on her Miraclesuits, Shannon exclaimed, "I had never tried on a Miraclesuit before because I thought it would be easy for everyone around me to know I was wearing a 'suck and tuck' bathing suit. But after trying on the suits Lisa picked out for me… I didn't even feel like a plus-size girl! I felt like every curve was right where it was supposed to be and I felt confident in every inch of my body! I love being proved wrong."
Cyberswim specializes in offering Miraclesuits in those hard to find D cup, DD cup and Women's sizes, including swimsuits that are often overlooked at most retailers. At Cyberswim "We Love Curves", and offer a variety of products catering to women who have them. The expansive collection of swimwear features over 200 assorted sizes and styles. Additionally, Miraclesuit swimwear separates are available, giving women of varying top and bottom sizes an expanded option of picking a suit that best fits their body needs. All Miraclesuits comes in a variety of figure-flattering colors and patterns, including one piece suits, separates and swimwear cover-ups. Cyberswim's Exclusive online Shape Solutions, help maximize best features and minimize the rest. Cover-ups in the Miraclesuit swimwear line are created with curves in mind as well, and showcase assorted styles that include those that are more fitted to the body, as well as those that are a little more dress-styled and can be put on over your suit should you need to run to the supermarket or head to a beach-side bistro for dinner.
Company president Lisa Stephen says Cyberswim, founded in 1999, is based on the belief that shopping for a swimsuit is one of the most dreaded experiences women face. She hopes to take the anxiety away and give women the confidence to celebrate their curves. "We don't just sell Miraclesuits, we love them." Miraclesuit, with the "Look 10 Lbs Lighter in 10 Seconds" declaration, offers beach wear, as well as Miraclebody jeans and tops; and Miraclesuit shapewear undergarments. All products are available in over 18 sizes, including Misses sizes as well as Women's sizes. Miraclebody Jeans by Miraclesuit have been featured in Oprah's Favorite Things Extravaganza.
For more information about Cyberswim and our products, please visit http://www.Cyberswim.com or email us at service(at)cyberswim(dot)com.
# # #