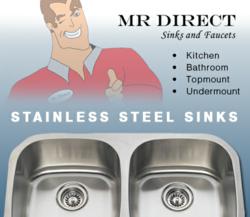 Mr Direct is a quality supplier. The stainless steel kitchen sink was as advertised and delivered within the schedule given. The accessories (cutting board and ranks) were better than expectations. No hesitation to recommend Mr Direct to anyone.
Toledo, OH (PRWEB) April 26, 2011
Mrdirectint.com offers a wide variety of of stainless steel sinks styles made from only the highest quality materials. They are a durable 16 gauge, made from Type 304 stainless steel, and have 18/10 Chromium/Nickel content, which makes them both rust and scratch resistant. Another benefit of MR Direct is that they manufacture and directly distribute their own products. This means that consumers will receive a high quality, brand name sink at an affordable wholesale price and also have the peace of mind that comes with the Limited Lifetime Warranty.
There is a wide variety of stainless steel sinks available through MR Direct that would compliment any décor. A small selection of what they have to offer includes:
Zero radius sinks are constructed from one solid piece of 16 gauge 304 steel. Due to this construction approach, these sinks are incredibly durable and built to last the lifetime of any kitchen. These sinks come in two styles, depending on the needs and decorating desires of the consumer. One style is the apron, which would compliment any kitchen whether it is a traditional farm house or a modern apartment. The apron style offers a combination of old-fashion farm house characteristics with the sleek sophistication of a European sink. The zero radius utility sinks are perfect for a modern kitchen, stylish bar, or even adding a fresh look to the heavily used laundry room. MR Direct offers this line in many forms ranging from a large single or double bowl, all the way to a fashionable small single bowl perfect for a bar area. Overall, the zero radius sink, whether it is in the form of an apron or a utility sink, will add durability and style to any room of the house.
There is also a wide variety of 16 gauge stainless steel undermount sinks available in single, double offset, or double equal bowls, depending on your kitchen needs. The double offset sinks are perfect for anyone that wants the space of a single bowl, but does not want to give up the convenience of a double bowl sink. The offset double bowl also allows additional room for your kitchen faucet, which is ideal if you have limited counter space. On the other hand, the double equal bowl sinks allow for both convenience and versatility within any kitchen. In order to provide a diverse collection of sinks for the consumer, MR Direct also has low divide, double equal bowl sinks available. A low divide sink caters to the need for a double bowl sink but fulfills the desire for a single bowl sink and is excellent for large pans or baking sheets. Regardless of different consumer needs, MR Direct will have the design, quality, and price that serves perfect for any kitchen.
Like the look of a single bowl sink? Look no further than the large selection at MR Direct. The assortment of single bowl sinks vary from small and compact, to large and spacious. The shapes and designs include a large variety of round, rectangular, and D-shaped bowls that would compliment any kitchen or bar space.
In addition to the standard single bowl sinks, MR Direct has introduced a collection of offset single bowls in order to give the consumer a wider variety when choosing a sink. An offset single bowl creates the beauty and simplicity for any busy kitchen. In order to offer as many sink options as possible, there is also a triple bowl stainless steel sink available. This sink would make a great addition to bring out the professional chef in everyone. Any MR Direct sink would add elegance and splendor to the kitchen or bar area.
To keep up with the growing desire for stainless steel, MR Direct has created beautiful vanity sinks that would add a modern feel to any bathroom. The stainless steel vanity sinks have three options for installation including topmount, undermount, or vessel. Regardless of whether the desired outcome is a total transformation or just a quick facelift to an out-dated bathroom, look no further than MR Direct. Most of the stainless steel products come with the mounting hardware and a template to make installation easier. In addition to the templates, there are also DXF Files accessible through the website for most of the stainless steel sinks.
Whether you need a sink for a basement bar area or a busy family kitchen, MR Direct can provide a quality stainless steel sink to fit any space, style, or budget.
###