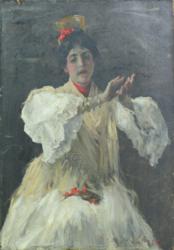 The highlight of the sale is a William Merritt Chase painting discovered in California titled "A Spanish Dancer", circa 1896.
Boston, MA (PRWEB) April 28, 2011
Kaminski Auctions will hold its May Fine Art auction Thursday evening, May 19th, beginning at 5:00 PM. The highlight of the sale is a William Merritt Chase painting discovered in California titled "A Spanish Dancer", circa 1896.
This work is included in Ronald G. Pisano's The Complete Catalogue of Known and Documented Work by William Merritt Chase(1849-1916)Vol 4, F.52. "It is thought to have been painted, or inspired by Chase's 1896 summer class, taught in Madrid, Spain. It was exhibited at the National Academy of Design in 1897. In a New York Times review the work is singled out and described "as (a) little half-length of A Spanish Dancer that has already been noticed in the general review of the exhibition, but deserves further mention this morning. It has all of Chase's nervous force, is broadly and strongly painted, and delightful in color and movement. Particularly effective is the color note of red in the neck handkerchief, the flowers in the hair, and a flower that has fallen into the lap. Mr. Chase has done nothing better than this little sketch in many a day," writes a well-known Art Historian.
Another important painting featured in the sale is an oil on canvas cubist portrait of a lady by Russian artist Vladimir Davidovich Baranoff-Rossine (1888-1944), having with it the original receipt of purchase possibly by his wife, Pauline Cemiionova Boukour.
There is also a wonderful Belgian landscape of sheep and goats by Eugen Joseph Verboechoven (1799-1891) as well works by several Russian painters represented by Boris Grigoriev, Mikhail Filipovich Ivanov, Julius Yulevich Klever and Mikhail Konstantin Klodt.
Notable paintings by American artists included in the sale are a George Clough (1824-1901) of two fisherman at leisure on the side of the river and an Elisha Taylor Baker (1827-1890) of the U.S. Steamship Monticello with accompanying original hand written letter . The Monticello was commissioned by the United States government in 1861 and commanded by Lt. Daniel L Braine.
Cape Ann artists are represented by several excellent paintings by Antonio Cirino (American 1889-1983) one of Rockport Headlands with a hand written tag on the back "Childe Hassam's Hideaway".
A painting of Whale's Beach, Swampscott, MA signed and dated 1880 by Charles Edwin Lewis Green, an artist of the Lynn Beach painters is sure to generate a lot of local interest from Boston and the North Shore.
The print and fine art collection of the former Wainwright Bank and Trust that is being deaccessioned by Eastern Bank of Lynn, Massachusetts, is certain to be an important part of the sale as well as two Old Master drawings of classical scenes brown ink on paper in the manner of Giovanni Tiepolo (1696-1770) from a private collector.
Kaminski Auctions will follow up it's evening fine art sale with its monthly estate sale on Sunday, May 22, 2011 starting at 11:00 am. Preview will be held Sunday, May 15th noon-5pm and Monday,-Saturday 10-5pm.
The highlight of the sale is a Chippendale mahogany tall clock by Aaron Willard, Roxbury, Massachusetts, circa 1792, with an 1 1/2" painted iron dial with a hand painted young lady in an oval frame. The original maker's label is inside the door "Common House Clock ". This Aaron Willard clock came from the Josiah Coffin House of 1824 (Nantucket, Massachusetts).
The estate sale include also includes an International Sterling Royal Danish pattern dinner service, Gorham silver, tea and coffee sets, a collection of Native American silver and turquoise jewelry, and much more.
E-mail: auctions(at)kaminskiauctions(dot)com
Phone 978-927-2223 ◊ Fax 978-927-2228
Live online bidding with Live Auctioneers and Auction Zip. Buyers premium 15% when bidding with Kaminski Auctions ◊ 18% when bidding online. Massachusetts License #171
# # #