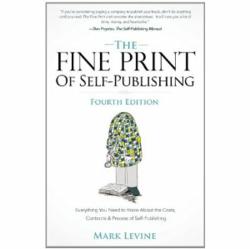 'If you're considering paying a company to publish your book, don't do anything until you read The Fine Print and consider the alternatives. It will save you a lot of time, money, and heartache.

Dan Poynter, author of The Self-Publishing Manual
Minneapolis, MN (PRWEB) April 22, 2011
Bascom Hill Publishing Group has released the fourth edition of Mark Levine's The Fine Print of Self-Publishing: Everything You Need to Know About the Costs, Contracts, and Process of Self-Publishing.
As self-publishing continues to explode, the fourth edition of The Fine Print provides new authors with solid advice, tips, and insights into the self-publishing industry.
Levine's book includes sections like,

"It's the Editing, Stupid",
"Your Credit Card Company Called – It Wants Its Limit Back",
"The Nine Qualities of a Good Self-Publishing Company",
The dissection and explanation of what publishing contracts really say, and
A review of the contracts and services of 25 well-known self-publishing companies.
The third edition of The Fine Print was awarded the Gold Medal in the Writing/Publishing category at the Independent Publisher Book Awards in 2009. The fourth edition is available through http://www.bookpublisherscompared.com and all major book retailers.
Mark Levine is the CEO of Minneapolis based Hillcrest Media Group, Inc.(http://www.hillcrestmedia.com). Levine also blogs about the book publishing industry at http://www.PublishingRevolution.com.
# # #