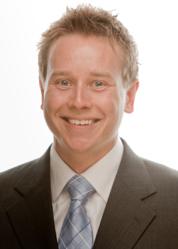 It is clear that the FIT program not only launched Ontario's local solar market, but it has set the stage for the region to become a manufacturer to the global market.
Toronto, Ontario (PRWEB) April 26, 2011
Conergy Canada's President, Jared Donald, will be participating in a session about the export potential of the Ontario solar market at CanSIA's Solar Ontario conference. As an electrical engineer, Mr. Donald has unique insight into the technology, manufacturing and design adaptations that are essential for export success. The session will focus on what Ontario's solar manufacturing base needs to achieve long-term competitiveness. Mr. Donald said, "It is clear that the FIT program not only launched Ontario's local solar market, but it has set the stage for the region to become a manufacturer to the global market. While manufacturers will have to adapt their products for external markets, the real-world experience that they gain during this large growth phase in Ontario will prove crucial. Having been founded in Germany, one of the oldest and largest solar markets, Conergy has exceptional experience at leveraging its know-how in a local company in order to initiate global distribution." Mr. Donald will be speaking on Friday, May 6th at 3:15 at the Solar Ontario conference in Windsor.
Conergy currently manufactures SunTop, a pitched roof mounting system with unique QuickStone technology that meets FIT Local Content Requirements. The Conergy SunTop offers a simple installation solution for any roof type and roof material. With adjustable telescope ends, the SunTop mounts can be quickly and easily adjusted to fit any size installation. The SunTop uses minimal amounts of parts which are fully pre-assembled. It therefore reduces inventory and is easy to learn. Introduced in 2009, the Conergy SunTop was the first mounting system in Ontario to meet Local Content Requirements. A unique aspect of the enhanced version of SunTop is that it only requires one tool for installation. This easy installation creates a quick learning curve. The costs are minimized even more with the fully pre-assembled parts which decrease installation time and inventory.
Conergy will launch the enhanced version of the Conergy SunTop at the Solar Ontario Conference. Version IV of SunTop offers key upgrades to the product. Conergy has expanded the number of rail profiles and through the SunTop Quick Configurator specifies the best combination of anchor points, rail profile, clamps, splices and telescopes to meet code requirements, reduces part count and installation effort. In addition, SunTop now has tilt units available for mounting on flat or low-angle roofs. Furthermore, the Quick Configurator is designed to meet International Building Codes, Californian Building Code, Ontario Building Code and Canadian Building Code as well as provide PE stamped letters and a complete set of line drawings to expedite permitting.
Conergy will be located at Booth 1 and will have a complementary suite for meetings in the executive suite in the Augustus Tower on Friday, May 6th during show hours. Meetings can be pre-scheduled by contacting the Canadian offices at 1-888-489-3701.
About Conergy North America
Only Conergy delivers solar energy systems from a single source. As a system manufacturer, Conergy produces all components for a solar installation and offers all services under one roof. With its modules, inverters and mounting systems, the solar expert creates Conergy System Technology, which is efficient and synchronized solar energy systems for private or commercial rooftops, as well as for multi-Megawatt Parks.
Conergy System Services deliver a "Worry-Free Package" for Conergy solar installations. Conergy's experts not only install on-site turn-key solar projects, but they also manage the planning and financing, project implementation, system monitoring, operation and on-going maintenance of the project for maximum performance. With this comprehensive technology and service package, Conergy offers yield insurance for its installations.
Conergy System Sales brings Conergy premium products to nearly 40 countries. The solar expert supports homeowners, installers, wholesalers and investors in their efforts to "go solar" through deep-rooted local operations in 18 countries. With sales activities on five continents, Conergy has close relationships with all its customers. Listed on the Frankfurt stock exchange, Conergy employs more than 1,700 people worldwide. Since Conergy's founding in 1998, it has produced and sold more than 1.5 GW of clean solar power.
Through its acquisition of well-established local companies, Conergy began operating as a distributor and project developer in North America in 2005 and currently has five offices, four warehouses and two production sites in the region. In the United States, Conergy manufacturers mounting systems in Sacramento, CA. In Ontario, Canada Conergy manufactures mounting systems that meet local content requirements for the Provincial FIT. In addition, Conergy operates a Project Group that develops and operates large-scale systems. Through these activities, Conergy maintains expert knowledge about local market conditions and requirements.
Please contact us if you have any questions or requests.
###