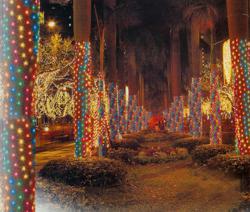 LEDs can easily last a decade or longer, utility and replacement savings multiply quickly
Cheektowaga, NY (PRWEB) April 22, 2011
ChristmasCentral.com, one of America's largest online retailers of holiday merchandise and home décor, is pleased to contribute to Earth Day conservation efforts by offering energy-saving and ecologically favorable buying options. These include a diverse selection of LED (Light-Emitting Diode) decorative lighting, patio furniture manufactured from recycled materials, Earth-friendly picnic baskets and accessories, and solar-powered garden décor.
As a major supplier of Christmas trees and holiday lighting, ChristmasCentral.com and its recently launched sister website, MerchantOverstock.com, wholeheartedly encourage green-minded customers to convert from incandescent lights to their energy-efficient LED counterparts. LEDs require just 10-20% of the power consumption of traditional incandescent bulbs, greatly reducing harmful CO2 emissions resulting from power production. Unlike other types of lights, LEDs do not produce UV light or contain mercury, both of which can harm living organisms. In addition, LEDs are constructed of recyclable plastic.
Despite these compelling reasons to change to LED lighting, many shoppers remain deterred by the higher initial cost of LEDs. However, Nathan Gordon, CIO of ChristmasCentral.com, hopes people will see the big picture. "Switching to LED lights is an easy way to 'go green.' Not only does this conserve energy, the long-term cost savings generated are significant for both the individual consumer with a single Christmas tree and the business featuring an expansive commercial holiday display," he states. Gordon goes on to say, "Since LEDs can easily last a decade or longer, utility and replacement savings multiply quickly."
ChristmasCentral.com continues its commitment to provide environmentally advantageous product choices by listing a large selection of Earth-friendly patio furniture. Constructed from sanitized post-consumer material, these chairs and tables contain over 90% recycled plastic by weight.
Additionally, ChristmasCentral.com and MerchantOverstock.com offer eco-friendly picnic basket sets featuring dye- and chemical-free cotton linings, and wine glasses fashioned from recycled glass. Lighted garden statues and ornaments utilizing clean, renewable solar power are other energy-saving alternatives available for purchase on the websites.
About ChristmasCentral.com
ChristmasCentral.com is a division of Gordon Companies, Inc., a family owned and operated business founded in 1977. As one of the largest online retailers of Christmas merchandise and home décor, ChristmasCentral.com offers over 25,000 unique products, serving the decorating needs of individual shoppers, professional decorators, small and large businesses, and television studios.
For more information, visit ChristmasCentral.com or call 800-433-0038.
###