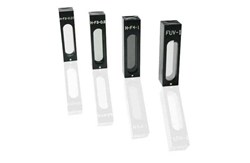 NSG Precision Cells saw the limitations of these liquid filters and felt the need to not only improve on current calibration methods, but to completely re-design how scientists were calibrating their spectrophotometers.
Farmingdale, NY (PRWEB) April 22, 2011
A general understanding of what exactly spectrophotometer calibration is essential in order to understand the critical importance of this procedure.
Spectrophotometer calibration is a method in which a researcher or scientist makes use of a calibration standard or filter to check the accuracy of the light source. This process is crucial to make sure that the spectrophotometer is functioning properly and the measurements are correct.
The calibration process varies somewhat for various instruments. Most main companies offer detailed calibration guidelines in the owner's manual so that researchers know how to calibrate the equipment correctly. Retaining a calibration log is also crucial to present when and who carried out the previous calibration.
For years researchers have been limited to liquid calibration filters that were only good for a short time and were easily broken. NSG Precision Cells saw the limitations of these liquid filters and felt the need to not only improve on current calibration methods, but to completely re-design how scientists were calibrating their spectrophotometers.
After months of in-depth research in nano-desposition layering technology NSG found the direction the industry needed to go in. This led them to develop the highest grade spectrophotometer calibration filters available today. The NSG calibration kits are used to calibrate a large variety of transmittance values that no other manufacturer can meet.
NSG Precision Cells transmittance values are derived from NIST (National Institute of Standards and Technology). Some of NIST's standards include SRM 2031, 2034, NIST930e, etc, in which NSG's calibration standards are all in compliance. NSG even boasts that their calibration filters exceed NIST's values.
Some spectrophotometer makers recommend researchers to send the machine in to be calibrated. The dilemma with sending the machine in is the cost of study time, shipping expenditures, and other numerous outside influences. It is ideal and most hassle-free to calibrate spectrophotometer with out sending it out of the lab. The calibration filters developed by NSG take only a few minutes to use and they give accurate results every time.
It is NSG's goal that researchers spend more time doing their work rather than worrying about how to calibrate a spectrophotometer. NSG's solid state calibration filters started changing the liquid filters because of to their ability of never having to be re-calibrated or replaced. Solid neutral density filters are also effortless to manage and will not break if they are accidentally dropped or mishandled, meaning less research time lost.
The solid state spectrophotometer calibration neutral density filters can test for photometric accuracy as well as stray light. To assure 100% accuracy, testing is completed at a minimum of five test factors. These spectrophotometer calibration filters can be used to calibrate machines created by Thermo Scientific, Beckman Coulter, Hitachi, Perkin Elmer, Hewlett Packard, Agilent, Shimadzu and more.
How easy is it to calibrate a spectrophotometer using NSG's calibration kit?
In old style spectrophotometer calibration, a reference is utilized to zero out the instrument. When working with NSG's neutral density filters no distinctive filters are essential to zero out the instrument. To calibrate the machine merely place the neutral density filter inside of the spectrophotometer, zero out the settings, and run the instrument. The results need to be compared to a calibration certificate that is provided by the producer of the calibration standards. If the final results are in the tolerance array specified by the manufacturer, then the spectrophotometer is effectively calibrated.
Prior to calibrating a spectrophotometer and to ensure appropriate readings, it should be allowed to warm up just before use. Most models take about 10 minutes or so to warm up. Spectrophotometer calibration must not be done whilst the devices is warming up. If somebody tries to calibrate a spectrophotometer in the course of the warm-up stage it will throw the settings off.
More info about cuvette production and spectrophotometers can be found at PrecisionCells.com
About NSG Precision Cells
NSG Precision Cells, Inc. was founded in 1958 and has been growing ever since. NSG Precision Cells, Inc. is a well established, highly regarded quartz manufacturer and we specialize in the manufacturing of quartz flow cells, quartz flow channel cuvettes, quartz microchips, quartz cuvettes, and other quartz optical products.