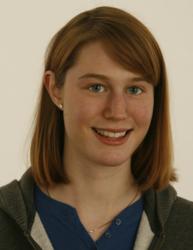 "What my teammates and I knew was a good idea, grew from just that, a good idea to a viable start-up business over the course of a weekend.
Needham, MA (PRWEB) April 25, 2011
Margaret-Ann Seger '13 and her classmates didn't expect their dotcom class project "Spot" to turn into a business, but it looks like that's exactly what's about to happen. On April 7 Margaret-Ann headed to Palo Alto, Calif., to participate in Stanford University's BASES|BT Entrepreneurship Bootcamp, one of the nation's most selective national entrepreneurship conferences. The team left as one of the top three in the competition.
The BASES|BT Bootcamp is an all-expenses-paid trip to Stanford University—including food, lodging and travel—for 110 undergraduate and graduate student delegates deemed to have the potential to transform their startup ideas into successful ventures. The application-only conference is focused on applied entrepreneurship and brings together promising ideas from students across the nation with founders, entrepreneurs and venture capitalists from Silicon Valley.
The event features small-group workshops, panels and networking opportunities, as well as keynote addresses from the likes of Google vice president Marissa Mayer; TiVo co-founder Jim Barton; and Elad Gil, director of corporate strategy for Twitter. It is organized by the Business Association of Stanford Entrepreneurial Students (BASES) and Princeton University's Business Today (BT), and sponsored by Sequoia Capital, a premier Silicon Valley venture capital firm.
To wrap up the conference weekend, the student delegates are given seven minutes to pitch their business ideas to participating venture capital firms. The top three finalists were given two hours mentoring time with Sequoia Capital, which has funded companies like Apple, Google, Yahoo, PayPal and Cisco Systems. For Margaret-Ann and her Spot teammates (Chris Gallello '12, Shane Moon '13, David Gaynor '13, and Reyner Crosby '13) this was a priceless opportunity.
The idea for Spot – a platform for location-based file sharing – was actually the teams' final project for Assistant Professor Mark Chang's Mobile Application Development plus Web Application Development courses—known to students as the "dotcom class." The two Olin courses are taught at the same time, in the same classroom, by the same professor; all teams are made up of students with web development experience and students with mobile development experience so that both a web and mobile end can be developed for every product.
The idea was originally conceived as a mini-project for one of the class's weekly "sprints" – a sponsor company (in this case it was Skyhook Wireless) comes to class to talk to students about what they do and what they need; then the students design a product (web and mobile end) to present to that sponsor for judging the next week. The team decided to take their "sprint" a little farther when they stayed on campus during spring break for the dotcom Hackathon. That's when they realized that there was a lot more to their idea.
"The BASES experience was really eye opening for me," said Margaret-Ann. "What my teammates and I knew was a good idea, grew from just that, a good idea to a viable start-up business over the course of a weekend. A lot of people, including conference participants and venture capitalists were really excited about the potential for Spot and already demand is taking off—118 people have signed up for the Spot beta invite list (getspot.us)." Beta for Android is set to launch on May 9.
# # #