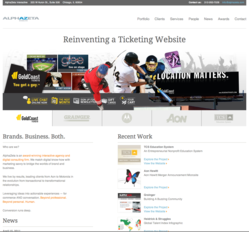 "...we uncover the unique attributes of our clients and their businesses to help them stand apart – now we're taking our own advice..." - CEO Michael Davies
Chicago, IL (PRWEB) April 25, 2011
AlphaZeta Interactive does some spring cleaning and launches new company website http://www.alphazeta.com. The company who has numerous industry awards to its credit took some time to focus inward and really communicate what it is they do best – develop integrated interactive strategy and execution for their clients. With a focus on eCommerce development and merchandising and digital branding billing the top two spots.
Aside from just being clean and vibrant, the new site also showcases the full breadth of capabilities and the unique culture of the firm. Considered a hidden gem, AlphaZeta Interactive is telling its story and highlighting their unique talent and tenured experience. The AlphaZeta team has a diverse collection of interests from competitive sailing to sketch comedy and emerging fashion to mid-century modern design which brings a unique and interesting perspective to clients businesses.
With Chicago power players Aon, Motorola, Gold Coast Tickets & others on their roster AlphaZeta Interactive is well versed in helping their clients achieve success.
"We are focused on delivering results – we uncover the unique attributes of our clients and their businesses to help them stand apart – now we're taking our own advice and focusing on communicating that for the AlphaZeta Interactive brand," says CEO, Michael Davies.
About AlphaZeta Interactive:
AlphaZeta is an award-winning interactive agency and digital consulting firm. We match digital know-how with marketing savvy to bridge the worlds of brand and business.
We live by results, leading clients from Aon to Motorola in the evolution from transactional to transformational relationships.
Leveraging ideas into actionable experiences — for commerce AND conversation. Beyond professional. Beyond personal. Human.
For more information about AlphaZeta Interactive visit http://www.alphazeta.com.
Follow us @AZinteractive
# # #