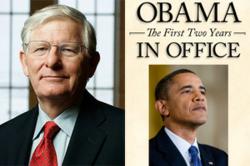 President Obama's domestic and foreign policy achievements have been monumental, yet highly controversial and not yet accepted by a large number of Americans.
Washington, D.C. (PRWEB) April 22, 2011
While President Obama was successful in seeing a number of his legislative priorities enacted in to law during the 111th Congress, he failed to communicate effectively with the public according to authors of a newly published book edited by American University professor James Thurber. "Obama in Office" (Paradigm Publishers, 2011) assesses President Obama's performance in his first two years in office and how it may influence his leadership and relationship with the American public, the media, interest groups, Congress and the world over the next twenty months prior to the November 2012 election.
"President Obama's domestic and foreign policy achievements have been monumental, yet highly controversial and not yet accepted by a large number of Americans," writes Thurber—founder/director of the Center for Congressional and Presidential Studies at American University.
Will Past Performance Predict Future Success?
This week, President Obama hit the campaign trail in an effort to sell his plan for tackling America's spending and debt crisis —a controversial mix of cuts in domestic and defense spending, along with increasing tax revenue—to the American people. The book demonstrates a trend of winning legislatively, yet losing the public opinion war; one the President hopes to reverse.
The President's 2010 budget framework and the accompanying rhetoric have been panned by conservatives as too partisan, and offer a stark contrast from the budget passed last week by the House of Representatives—from House Budget Committee Chairman Paul Ryan (R-Wisconsin)—that focuses solely on reigning in spending.
A return to a campaign style push for spending cuts and tax increases on the wealthy may mark a return to a more successful style for President Obama. The authors of "Obama in Office" contend that while President Obama had a clear strategy theme and message in his momentous 2008 campaign, he did not bring that same clarity to governing.
Simultaneously, it may signal a departure from the promise to change the way Washington, D.C. does business—a major campaign promise.
"Obama did not realize that presidents rarely set the rules of American politics," wrote Thurber. "An opportunity to change the rules comes only to those who play with extraordinary skill under the existing rules. Obama believed that he would change the rules…and operate on a higher plane by willing our political system to be what he believed it should be. After two years, President Obama failed to do that, even though he was enormously successful with his policy agenda."
The Experts
"Obama in Office", a collection of sixteen independent assessments of the Obama Administration from a variety of perspectives, looks at the transition from campaigning to governance; President Obama's relationships with Congress, special interest groups, voters and the media; and his foreign and domestic policy. Chapter authors include: James Thurber, Gary C. Jacobson, Richard W. Boyd, Stephen J. Wayne, James P. Pfiffner, Barbara Sinclair, John E. Owens, Ron Elving, Scott Lilly, Joseph White, Claudia Hartley Thurber, Douglas E. Van Houweling, Jonathan Wilkenfield, Martha Crenshaw, Richard M. Pious, Lawrence J. Korb, and Alexander H. Rothman.
Thurber—who worked with Senator Obama on ethics and lobbying reform issues—authored the chapter on President Obama's battle with lobbyists. President Obama continued the fight he began in the U.S. Senate to increase transparency and accountability in government and crack down on enforcement.
However, Thurber notes "as president he found changing the lobbying industry difficult because of its size and adaptability and because it is an integral part of pluralist democracy." In fact, the Obama administration utilized outside advocates, both registered lobbyists and otherwise, to build coalitions of support. Thus far, President Obama's attacks on lobbyists have resulted in less transparency as once-regulated lobbyists deregister and there is an increase in the number of people using legal but nonregistered means to influence government.
As President Obama begins asking voters to return him to the White House for a second term how should his presidency be measured after two years in office? As he prepares to lead the country through a budget debate that will include major policy debates over entitlement reform, fair taxation, energy and climate, education, and the role of the United States in the world what were his policy and political achievements during his first two years in office? What were his failures and what challenges are left for him to address in the coming two years? "Obama in Office" offers invaluable insight into the past and how it might shape the future.
# # #