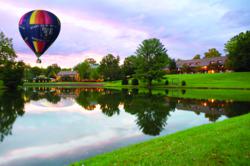 Cendyn creates some of hospitality's most visually attractive websites. They are the best in the industry at this. Plus, they helped us gain a deeper understanding of how customers are influenced by a website's design.
Boca Raton, FL (PRWEB) April 28, 2011
Many independent, privately owned hotels bank on a tradition of personal service and individuality to attract business and keep guests loyal. But one such property - The Boar's Head in Virginia - understands that first-class accommodations and deluxe amenities are only part of a successful business strategy in today's market. The AAA Four Diamond Award-winner is realizing strong sales growth as a result of its partnership with Cendyn, a full-service digital sales and marketing agency for the hospitality industry. Click here to learn more about Cendyn's solutions.
'Cendyn moved us into the 21st century'
"Before we began working with Cendyn several years ago, we were not thinking strategically about internet marketing," said Carol Smith, Director of Sales and Marketing for The Boar's Head. The property realized a 38 percent increase in total website traffic since Cendyn designed and launched the property's website in July 2009. "Cendyn moved us into the 21st century."
The partnership helped The Boar's Head achieve dramatic increases in organic and paid search engine traffic resulting in increases in online revenues. Revenue figures for January 2011 compared with the same month in 2010 are a credit to the property's new online focus:
Total website traffic increased 38%
Unique visitors increased 11%
Page views increased 14%
Traffic from search engines increased 17%
Referring sites increased 11%
Part of the marketing team
The Boar's Head is the centerpiece of a 573-acre resort nestled in the Blue Ridge Mountains. It offers award-winning dining, golf, tennis, and spa facilities. The property's marketing team knows that you cannot survive on credentials alone in today's hyper-competitive market. "Cendyn taught us how digital marketing could work more successfully for us," said Smith, who views her online provider as part of the resort's marketing team. "Cendyn creates some of hospitality's most visually attractive websites. They are the best in the industry at this. Plus, they helped us gain a deeper understanding of how customers are influenced by a website's design."
Watch analytics, hit the right targets, increase incremental revenue
Smith and her team work with Cendyn regularly to keep their strategies on target. "We talk with Cendyn almost every day," she said. "Calls may be to our Account Manager for website updates, our SEM team or our Digital Media Specialist to help manage our analytics and ensure our ads are targeting the right audience. Their eConcierge team plays an integral role in enhancing guest service efforts and helping us understand guest preferences and behavior. And, best of all, we are able to generate more incremental revenue, which improves our bottom line. Cendyn is an important part of what our guests experience and they have played a significant role in our marketing success."
Next on The Boar's Head agenda is implementation of an additional eConcierge module. The new functionality will enable guests not staying on property to make reservations online for the resort's golf course, restaurant, and spa. "This data will be captured and used to send personalized special offers that encourage visitors to stay with us and experience the rest of the property," said Smith. "Having preference information from day guests who are already familiar with our property will further improve our marketing success and increase revenues."
'They hear us'
The property began working with Cendyn in 2008 to develop online RFPs, and the partnership expanded from there. "We particularly value Cendyn's ability to listen to what we need, and turn it into effective solutions that enhance our guest's experience and generate results," said Smith. "They hear us and apply their impressive industry experience to fit their solutions perfectly to our property. Their team analyzes our marketing performance data and provides easy-to-understand reports so we can take the appropriate actions to build the most effective promotions. Everyone we work with at Cendyn is an experienced hotel professional who understands our industry and our unique business."
About The Boar's Head
The Boar's Head, a 170-room resort set on 573 acres in the Virginia countryside, offers Four
Diamond dining, a state-of-the-art sports facility, championship golf and tennis, a luxury spa,
children's programs, 22,000 square feet of meeting, wedding and other social event space, and proximity to attractions such as Monticello, the Blue Ridge Mountains and numerous wineries. The resort is owned and operated by the University of Virginia Foundation. For more information and reservations, call 434.296-2181 or 800.476.1988; or visit the resort's website at http://www.boarsheadinn.com.
About Cendyn
Cendyn is a leading provider of digital sales and marketing solutions to the global hotel and travel industries. Based in Boca Raton, FL, and established in 1996, Cendyn is a full-service agency whose solutions are used by over 10,000 hotel and travel destinations worldwide. Created by hoteliers and marketing experts, Cendyn's proven techniques and technology innovation raise online visibility while driving revenue and bottom-line results.
Cendyn's services and solutions include: digital marketing, website design, branding, and innovative products such as eProposal™, eConcierge™, eSurvey™, eInsight™, eConnectivity™, eBooker™, and eMenus™. Clients include Starwood Hotels & Resorts, Ritz-Carlton Hotel Company, Hyatt Hotels and Resorts, Hilton Family of Hotels, Marriott International and other chains and independent properties. Cendyn, the recipient of multiple prestigious awards for website design, innovation and marketing programs, extends its "Power of We" culture into the community through sponsorships of the YMCA, youth teams, and community outreach that includes the Boca Helping Hands food bank, George Snow Scholarship Fund, Boca Raton Historical Society, Florence Fuller Childhood Development Centers, and community projects of the Junior League of Boca Raton. To learn how Cendyn's products and services can improve your bottom line, please visit our website http://www.cendyn.com.
# # #