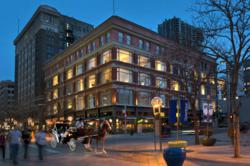 Denver, Colorado (PRWEB) April 26, 2011
There's a new look at the Courtyard by Marriott Denver Downtown Hotel at 16th and Curtis St. in Denver, CO. The hotel recently reopened after a $2 million renovation by SERA Architects, a company with over 25 years experience in integrated interior design. The renovation focused on combining the Denver's history and the forward-thinking mentality of the 21st Century. Hotel room improvements include new bed and bedding packages, furniture, microwaves, refrigerators, iPod docking stations, carpet and drapery.
The Courtyard by Marriott Denver Downtown originally opened as a Joslins department store in 1873. The renovated Courtyard is the latest incarnation of this cultural landmark which has played a direct part in the history of Denver for over 100 years. The ethos of the design embraces the west both new and old through its bold attention to detail.
The new rooms feature artwork of the Rocky Mountains and the Denver Metro area by artist Gifford Ewing.
About the Courtyard by Marriott Denver Downtown:
The Courtyard by Marriott Denver Downtown Hotel is located in the heart of downtown Denver on the 16th Street Mall, one of the city's main attractions. Aside from hundreds of restaurants and shops in the area, the hotel houses an award-winning restaurant, the Rialto Café as well as a Starbucks. Owned and operated by Sage Hospitality, the newly renovated historic building has 177 freshly designed rooms and 3,200 sq. ft. of meeting space. Guests have access to free wireless internet, a business center, a modern fitness center and the city of Denver at their doorstep. To learn more about the Courtyard by Marriott Denver Downtown visit, http://www.marriott.com/hotels/travel/dencd-courtyard-denver-downtown/.
###