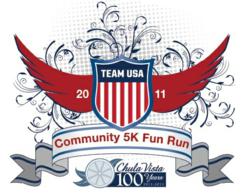 Runners and walkers will be able to see parts of the training center not normally open to the public.
Chula Vista, CA. (PRWEB) April 26, 2011
The United States Olympic Training Center– Chula Vista (CVOTC) opens its gates to the public for the third annual Chula Vista Community 5K Fun Run/Walk on Saturday, May 21. Set in one of the most inspirational locations in San Diego County, this family-friendly event offers participants the opportunity to run alongside Olympians through the exclusive Olympic Village.
Online registration is now open at http://www.chulavistaca.gov/goto/funrun. Register before May 7 to receive a free T-Shirt. Individual, family, team and corporate entries are available to runners and walkers of all levels.
"This is a great day for the community to come together for a unique fitness event inside the beautiful Olympic venue," said Tracy Lamb, Director for the CVOTC. "Runners and walkers will be able to see parts of the training center not normally open to the public. This is an event for family and friends to enjoy a fun Olympic experience."
As a Chula Vista Centennial celebration event, proceeds generated from race day will benefit the friends of the Chula Vista Library, friends of the Chula Vista Nature Center, friends of Chula Vista Parks & Recreation and friends of the Chula Vista Animal Care Facility.
The CVOTC, Sharp Chula Vista Medical Center, East Hills Realty and other sponsors have teamed up to benefit the event. Additional sponsorship and expo opportunities are available. Interested sponsors may contact the Expo & Sponsorship Coordinator at (619) 409-5966.
As a part of the year-long Chula Vista Centennial Celebration throughout 2011, a community expo and celebration with food, educational booths and music will follow the race.
The Chula Vista Community 5K Fun Run/Walk is open to all ages, including walkers, families, classrooms, community groups and corporate teams. Strollers and dogs on leashes are welcome.
Race At A Glance
Chula Vista Community 5K Fun Run/Walk
Saturday, May 21, 2011
U.S. Olympic Training Center - Chula Vista
2800 Olympic Parkway
Chula Vista, CA 91915
Gates Open: 6:30 am
Race Start: 8:00 am
The Chula Vista Community 5K Fun Run/Walk is a race for runners and walkers of all levels to participate in a fun and engaging environment at the CVOTC.
The course is a five-kilometer loop spread throughout the 155-acre CVOTC adjacent to Lower Otay Lake in San Diego County. Runners, walkers, dogs, families and strollers will weave through the multiple sport venues within the training facility.
About the U.S. Olympic training center – Chula Vista
The CVOTC opened in June 1995, is the first USOC training center to be master-planned from the ground up and is dedicated to the development and performance of America's future Olympic athletes. Resting on 155-acre complex, the year-round, sea-level, warm-weather facility in California is adjacent to Lower Otay Reservoir in San Diego County.
The Center operates sport venues and support facilities for the Olympic sports of Archery, Biathlon, BMX, Bobsled, Canoe/Kayak, Cycling, Field Hockey, Luge, Rowing, Rugby, Skeleton, Skiing/Snowboard, Soccer, Softball, Speed Skating, Swimming, Track and Field, Triathlon, Volleyball, Water Polo and various Paralympic and Pan American Sports.
About The Centennial
The City of Chula Vista Centennial is a yearlong, once-in-a-lifetime celebration of events, organized by and for the community to commemorate the history and people of the city and create a lasting legacy. City-wide events sponsored by community businesses, educational groups, and non-profit organizations in partnership with the Centennial's Committee of 100 volunteers will continue through 2011. To learn more about the Centennial and review a calendar of events and projects, visit the official website at http://www.chulavista100.com.
About The City Of Chula Vista
The City of Chula Vista is San Diego County's second largest municipality and will celebrate its Centennial in 2011. With approximately 230,000 residents, the city is located just south of downtown San Diego. Chula Vista's 33,024 acres is diverse - from coastal shoreline in the West to the San Miguel Mountains in the East. Established neighborhoods, contemporary communities, start-up firms, corporations, nationally recognized entertainment venues, the nation's only warm weather Olympic Training Center and a historic downtown all contribute to Chula Vista's attraction for both families and businesses. Combined with affordability and room to expand, Chula Vista is positioned to continue offering multifaceted opportunities to businesses and residents alike.
###