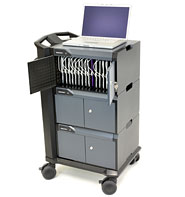 "This is the kind of multifunctional innovation we have come to expect from Ergotron," says Barb Miller, vice president, services, at Tech Data.
St. Paul, Minn. (PRWEB) April 25, 2011
At Tech Data's recent TechEDG in Tampa, FL., Ergotron introduced the Ergotron TeachWell® Tablet Management Cart, a new modular syncing and charging system for USB charge tablets and eReaders, including the iPad®, the Barnes & Noble Nook® and Amazon Kindle® tablets. Each module holds up to 16 tablets and will charge units and sync software through a multi-port USB hub. The system, to be offered as either a mobile cart or stand-alone desktop option, is 35% lighter and 43% smaller than competitive charging carts and is designed for space-constrained classrooms, healthcare facilities, or any enterprise environment. Timing is significant, as tablet growth continues to outpace laptop sales. According to the Deutsche Bank analysts, tablet sales are expected to increase to 45 million in 2011, with Apple holding a significant portion of that estimate.
"This is the kind of multifunctional innovation we have come to expect from Ergotron," says Barb Miller, vice president, services, at Tech Data. "Resellers and end-users have been looking for cost-effective solutions that bring organization and streamline implementation and utilization of the new technologies like tablets in the classroom. This cart offers just that."
The TeachWell Tablet Management Cart's open architecture allows for a flexible response to future technology changes and for the secure storage and transportation of up to 48 tablets, if all three modules are installed. With its easy one-time setup and secure cable management drawer (which limits student access), syncing and charging is as simple as connecting a master laptop via USB and plugging the one power cord into the wall socket. The system will automatically switch from charging to syncing using USB 2.0 protocol when the master laptop is connected. Module status and individual tablet charging status is visible with LED indicators.
"This is a very exciting introduction for Ergotron. The system's flexible format breaks new ground with the syncing and charging functionality," says Steve Reinecke, senior global director of healthcare and education industries at Ergotron. "As tablet use continues to rapidly expand, this cart offers customers an affordable, space-saving option, promoting efficiency and productivity in any environment that it supports."
The TeachWell Tablet Management Cart ships fully assembled and will be available in August, 2011, in the US and global markets via regional distribution and reseller channels. MSRPs start at US$899. Contact Ergotron for more details on availability.
TeachWell, Ergotron and the Ergotron logo are trademarks of Ergotron, Inc. All other trademarks are the property of their respective owners. To learn about Ergotron and its entire product line, visit http://www.ergotron.com or call 800.888.8458.
About Ergotron:
Founded in 1982 by VESA FDMI standard author and visionary Harry Sweere, Ergotron is a global manufacturer of digital display mounting and mobility products, headquartered in Saint Paul, Minnesota, with sales efforts in Amersfoort, the Netherlands, and Singapore. Ergotron's products have been improving the human interface with digital displays for over 25 years. Our history of innovation and passion for differentiation is evidenced in over 37 patents and our growing portfolio of award winning products for computer monitors, notebooks, and large flat panel displays and T.V.s Ergotron products enhance computing wellness, improve workplace productivity and create business process efficiencies, wherever and whenever they're used. Incorporating Ergotron's Constant Force lift and pivot motion technology, wall and desk mount arms, stands, mobile carts, pivots and vertical lifts require less effort to achieve more ergonomic motion, improving the user's experience when viewing any digital display for work or entertainment.
# # #