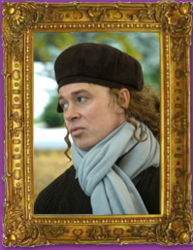 I am here to create beauty in a world where style has no size.
Philadelphia, PA (Vocus/PRWEB) April 25, 2011
After starting the very successful House of Mohr, a small custom clothing boutique located in Bala Cynwyd, Pennsylvania, John-David has decided to unleash his vision and expand his horizons nationwide. His website, http://www.mohrstyle.com, has been specifically designed to ensure that fashion-minded customers - of all shapes and sizes and from as far away as San Francisco, Hollywood and Miami - have a highly personalized, interactive and rewarding custom design clothes shopping experience. His new website gives clients the opportunity to interact directly with the designer and become a part of the creative aspect by choosing different fabrics, colors and textures to create a custom fashion design.
John-David helps women of every shape and size look great and feel beautiful. The House of Mohr regularly designs clothing for sizes ranging from 0 to 24. Custom design clothing inspires confidence, according to John-David and as Wilhela Cushman expressed recently, "Just around the corner in every woman's mind - is a lovely dress, a wonderful suit, or entire costume which will make an enchanting new creature of her."
The custom fashion designer was recently quoted "I am here to create beauty in a world where style knows no size." He customizes a look for each customer's unique style, size and need. The House of Mohr boutique in Bala Cynwyd and the http://www.mohrstyle.com website give each customer a highly interactive platform to work directly with John-David by selecting styles and a wide array of colors and fabrics. Customers to the website are encouraged to intermingle very versatile pieces of clothing, fabrics, colors and textures to create a custom design perfectly suited to each unique shopper. The pieces can be mixed in a variety of ways to create a new look each time. Whether the desired look is elegant, low-key dressed up, forward-fashion funk, evening wear, after five-wear, or dresses, skirts, jackets, pants or tops, the versatility of John-David's clothing lines makes his clothing and shopping experience unique, exciting and economical.
This is what Susan says about her custom design clothing shopping experience: "John-David made me chic and sexy but at the same time appropriate, as well as unique. He unlocked the mysteries of custom made clothing and made the process very easy and comfortable."
John-David works to increase the self-esteem and confidence of his customers by making them look and feel better, one by one as well as one on one. A testimony from Sue states, "John-David made the most of what I had to work with. I feel that he understood my body type and used his eye and his imagination to make me look and feel my best."
John-David's keen attention to detail and his uncanny visionary ability to spot fashion trends before his competitors give his customers of all sizes and shapes a unique edge in the highly competitive custom fashion industry.
Some of John-David's designs can be seen in Dress for Success charity event fashion show video here shot in May 2010. Video produced by John-David Mohr in conjunction with Prestige Concepts LLC.
About John-David Mohr and the House of Mohr. While conquering the world of hair and make-up by keeping some of the most well-heeled women of Philadelphia happy and quite well coiffed, John-David Mohr has managed to find the time to develop a line of fashion to further extend his all encompassing vision concerning the world of beauty. House Of Mohr's boutique is at 203 Bala Avenue, Philadelphia, PA. To schedule an appointment for a personal consultation call (610) 747-0507. The House of Mohr website is located at http://www.mohrstyle.com.
###