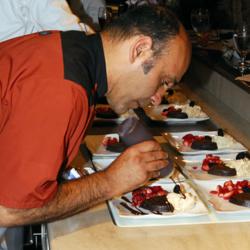 What comes from the heart penetrates the heart...
Milwuakee, WI (PRWEB) April 26, 2011
In honor of mothers everywhere, Chef Feker is asking the public to NOMINATE THEIR MOTHER, her most cherished recipe along with their most loved memories, and Feker shall select one lucky winner to join him on Feker's Kitchen LIVE Saturday, May 7, 2011. Feker's Kitchen, seen weekly on FOX6's Weekend Wakeup, is Milwaukee's only LIVE cooking show where Feker reveals the complicated unknowns of cooking, empowering his viewers by explaining the fundamentals of cooking and chemistry of food.
The reason for this is he not only wishes to show the importance of the family recipe, but also how he receives daily nourishment through getting people back to the table. When asked, Feker said, "sharing my stage is sharing my love for life. What comes from the heart penetrates the heart."
"The winner," explains Feker, "shall be selected not only based on the recipe submitted but more importantly the story behind it and the loving memories that are linked with that recipe. I will be announcing the winner Live on FOX 6's Wakeup on Friday, May 6, 2011. Visit me online at http://www.ilmito.com to learn more!"
Chef Feker is a culinary innovator who has made it his mission to get people back to the dinner table; from his restaurant, IL MITO Enoteca, to his state-of-the-art cooking school, CMF's School of Culinary Magic where he will hosts monthly gourmet beer and wine tastings, hands-on and demonstrational luncheons, as well as private lessons for individuals or couples. To learn more about this event and other culinary opportunities, explore http://www.ilmitocooking.com.
Keep up to date on Twitter and Facebook at: http://twitter.com/cheffeker and http://www.facebook.com/pages/IL-MITO-ENOTECA/10304511
IL MITO is located in Wauwatosa at 6913 W. North Avenue. Lunch is served Tuesday through Saturday 11:00am to 2:00pm; Sunday Brunch with Bloody Mary Bar 10:00am to 2:00pm; Dinner: Tuesday through Thursday 5:00 to10:00pm, Friday and Saturday 5:00pm to 11:00pm and Sunday 5:00pm to 9:00pm. Reservations can be made online at: http://www.ilmito.com or by calling 414-443-1414.
###