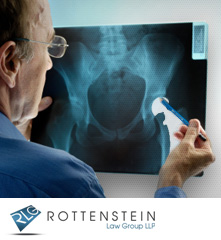 New York, NY (PRWEB) April 27, 2011
In Sillman v. DePuy Orthopaedics Inc. et al., United States District Court for the District of New Jersey case no. 3:11-cv-01945, plaintiff Anna Maria Sillman alleges that the Pinnacle hip replacement device is "unsafe and has not been tested" and that DePuy's efforts to avoid premarket testing of the device by claiming that it is substantially similar to older devices already approved by the U.S. Food and Drug Administration was inappropriate, given that the older devices themselves had not undergone premarket testing. The lawsuit claims that DePuy should have recalled the Pinnacle hip "years ago," in light of "over 1,300 adverse events" related to the device reported to the FDA.
According to the FDA and the pleadings, most of these adverse events reports relate to the loosening of the device inside a recipient, leading to severe pain when the recipient performs simple tasks. There is another problem with the Pinnacle system, though: A study published in December and reported by the New York Times has shown that due to the composition of the Pinnacle system, metal may flake off the device and embed itself in the surrounding tissue of the recipient, which puts the person at risk of developing metal poisoning.
Accordingly, the Rottenstein Law Group is imploring anyone with a friend or relative who has received a hip replacement device to reach out to that person and recommend that he or she consult a physician immediately and then speak to a qualified personal injury lawyer.
The Rottenstein Law Group maintains a DePuy Pinnacle Lawsuit Evaluation Center at http://www.depuypinnaclelawsuit.com. The site has features that allow for easy sharing, including links for automatic posting on Facebook and Twitter, specifically to enable visitors to spread the word about the DePuy Pinnacle failures.
About THE ROTTENSTEIN LAW GROUP
The Rottenstein Law Group is a New York-based law firm that represents clients in mass tort actions. The firm was founded by Rochelle Rottenstein, who has more than two decades of experience as a lawyer, to represent clients in consumer product injury, mass tort, and class action lawsuits in a compassionate manner. http://www.rotlaw.com
Contact:
The Rottenstein Law Group, LLP
Rochelle Rottenstein, Esq.
1259 Veeder Drive
Hewlett NY 11557
(212) 933-9500 (office phone)
(212) 933-9980 (facsimile)
rochelle(at)rotlaw(dot)com
http://www.rotlaw.com
###