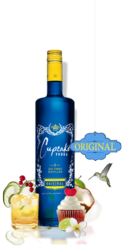 Livermore, California (PRWEB) April 25, 2011
Underdog Wine & Spirits, makers of Cupcake Vineyards wines, the US's fastest growing $8+ wine brand in 2010, recently introduced four super-premium vodkas: Original, Chiffon, Devil's Food and Frosting. These new vodkas walk the talk when it comes to purity of flavor, delivering four decadent treats in powerful, sapphire-blue bottles.
Developed by Underdog's International Director of Winemaking, Adam Richardson, in direct consultation with renowned master of spirits and wine Doug Frost, Cupcake Vodka cuts no corners. The goal was to meet consumers' need for a super clean vodka that they would be proud to share with friends. Starting with the finest grain and grape, Cupcake Vodka Original is six-times distilled to remove impurities while delivering a mouth-feel reminiscent of an indulgent delicious treat.
"Cupcake vodkas have velvet silkiness, distinctive texture and a smooth finish, exactly the way vodka lovers want it," noted Frost. "They capture purity of flavor to achieve a super-premium taste."
"Cupcake continues to offer products to help consumers Live Deliciously," said Todd Ziegenfus, Senior Marketing Director. "We are always looking for opportunities to meet the needs of our core consumer: the adult millennial. We tested several concepts and confirmed that nothing met that personal reward shared with friends better than Cupcake. Our research indicated that a super-premium product in a super-premium package at a reasonable price will provide value that will resonate with our target."
Cupcake Vodka Original is 80 proof, while Chiffon, Devil's Food and Frosting vodkas are 70 proof. Each of the Cupcake vodkas carries a suggested retail price of $17.99 per 750ml bottle. Additional information is available at http://www.cupcakevodka.com.
About Underdog Wine & Spirits:
Underdog Wine & Spirits, an unleashed unit of The Wine Group, is the champion of emerging brands for the new millennium: the "underdogs" of the sometimes stuffy wine and spirits world. We work with domestic and international producers to craft unique adult beverages that are a breed apart. The home of Cupcake, Fish Eye, flipflop, Big House and Octavin, our portfolio includes many of today's most dynamic growth brands. For more information about Underdog Wine & Spirits visit http://www.underdogwinemerchants.com.
# # #