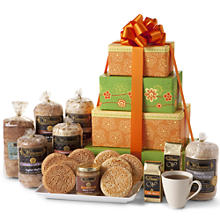 Make Mom's morning with one of Wolferman's favorite Mother's Day gifts.
Medford, Oregon (PRWEB) April 26, 2011
Wolferman's, proud purveyor of specialty foods for over 100 years, offers gourmet Mother's Day gifts, including brunch gifts filled with English muffins, breakfast pastries and other specialty products. Celebrate Mom's special day with treat-filled Mother's Day gifts, courtesy of Wolferman's.
Make Mom's morning with one of Wolferman's favorite Mother's Day gifts. Our Best of Wolferman's Supreme Gift Basket includes an impressive array of treats for a Mother's Day brunch. This family-sized brunch in a basket features three varieties of our signature English muffins, classic crumpets, currant scones, strawberry preserves, fruit spread and more. Special breakfast goodies are a perfect way to start off any Mom's day.
Give Mom the kind of love she's always shared with brunch gifts and goodies she'll love. Our Deluxe Spring Breakfast Tower makes a great Mother's Day gift and includes our famous English muffins in our best flavors. Mom can choose from our 1910 Original Recipe, cinnamon raisin, apple orchard, chocolate chip or San Francisco sourdough English muffins for a breakfast treat. This is just one of our Mother's Day gifts that will say more than thanks to Mom for all she's done.
Mother's Day isn't just about Mom – send Mother's Day gifts to grandma or a friend's mom who is always there. Wolferman's variety of Mother's Day gifts, including our Spring Brunch Gift Basket and Spicy Cinnamon Box, makes it easy to find great gifts for all the moms who have been a positive influence. Our Spring Brunch Gift Basket features a generous smorgasbord of our top treats, including assorted English muffins, apple strudel tea bread, blueberry coffee cake, honey-drenched baklava, pecan kringle and more. Our Spicy Cinnamon Box includes a collection of our favorite cinnamon-flavored brunch gifts, such as our cinnamon and raisin English muffins, cinnamon sugar crumpets, cinnamon chip scone and classic cinnamon roll. Send one of these lovely gifts, or one of our other Mother's Day gifts, to Mom and brighten her special day.
Wolferman's assortment of Mother's Day gifts doesn't stop here – browse through the pages of tasty bakery items and brunch gifts on the Wolferman's website to find the perfect gift for Mom.
Remember to order all Mother's Day gifts before the shipping cut-off dates to ensure timely arrival. The last day to order Mother's Day gifts using regular shipping is April 29th; the last day for 3-day express is May 3rd, 2-day express cutoff is May 4th, and the last day for next day delivery is May 5th.
All orders are backed by a 100% guarantee. If those who receive our Mother's Day gifts are not fully satisfied, Wolferman's will provide either an appropriate replacement or a full refund. Visit http://www.wolfermans.com for more information.
About Wolferman's
Founded in 1888, Wolferman's is a direct marketer and wholesaler of premium specialty foods and gifts, such as English muffins, tea breads, breakfast pastries, jams and other specialty products. The Wolferman's® catalog also includes a wide variety of gift baskets, gourmet breakfast gifts, gourmet pastries and honey and fruit spreads for every occasion. The Wolferman's® specialty English muffins include the 1910 original recipe, multi-grain & honey, chocolate chip, pumpkin spice and more. The Company started making its signature Wolferman's® English muffins in 1910 and, today, sells its products primarily through its catalog and http://www.wolfermans.com, as well as through foodservice and retail channels. Wolferman's is a Harry & David company which includes the Cushman's brand.
(Harry & David and Wolferman's are DBAs of Harry and David.)
# # #