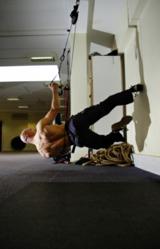 " I have never encountered a single kit that can change my clients performance. THIS IS A GAME CHANGER!"
Rannoch Donald

Duarte, CA (PRWEB) April 23, 2011
Balance Performance in London, England secures exclusive distributorship in the UK and Ireland for the CrossCore War Machine and CrossCore180 Rotational Bodyweight Trainer. Jonathan Lewis and Rannoch Donald have been using the War Machine for the last 8 months and have taken Rotational Bodyweight Training to a whole new level. Jonathan is Balance Performance's director of strength and conditioning services. He has over 20 years experience in performance strength and conditioning, including time as a Royal Marine Commando, and over a decade in advanced physiotherapy rehabilitation. Jonathan teamed up with Scotland's first Certified Kettlebell Instructor and IKFF CKT Level 1 & Level 2 Fitness & Movement Dynamics and Kettlebell Teacher, Rannoch Donald, who established Simple Strength and Kettlebells Scotland to distil his own training practices into an effective system.
Rotation! Rotation! Rotation! The market for elite physical training is heating up and the most advanced system is the War Machine and CrossCore180 with its Patent Pending pulley system that adds "Rotational Movement" to exercises and creates dynamic stabilization which is key to injury prevention. The ability to mimic one's own sports movements on all planes of motion is a true breakthrough in bodyweight training equipment. The War Machine and CrossCore180 distinguishes itself with a rotating pulley at the suspension point of the ropes, which can be locked for a stabilized workout or unlocked "Pull the Pin" to allow more movement and rotation to mimic sports movements adding balance and agility to sports and fitness training.
The War Machine is the only bodyweight trainer that is Made In The USA and is indestructible, commercial grade and was designed for Military, Mixed Martial arts and Action Sports. The Crosscore180 caters to elite fitness health club training, Baseball, Basketball, Football, Soccer and in fact all sports. No other pieces of equipment will give you the sports performance training to "Turn your game around" in just weeks.
"My clients will never be the same! I now know what changes I would make to Military Training (Both Recruit and Trained ranks). I believe the War Machine, Kettle Bells and Trigger Point Performance Therapy will make a massive difference to their ongoing capabilities, sustained performance and faster recovery form injuries." -- Jonathan Lewis - Owner Balance Performance, London, England
"I have never encountered a single kit that can change my clients performance. THIS IS A GAME CHANGER!" -- Rannoch Donald – Owner of Simple Strength and Scotland's first certified Kettlebell Instructor.
"Our vision of elite training is spreading around the world and we welcome all that strive for perfection and sharing the vision. Welcome aboard Jonathan and Rannoch!" -- Brendan Cosso, President CrossCore, Inc.
CrossCore, Inc. is a manufacture of Rotational Bodyweight Training products and accessories for the Military, Mixed Martial Arts, Professional athletes and the Fitness Elite. Distributed in the US and Internationally.
If you'd like more information about the War Machine® or CrossCore180® by CrossCore, Inc. go to http://www.crosscore-usa.com or contact Jay Wilson at jay(at)crosscore-usa(dot)com
# # #