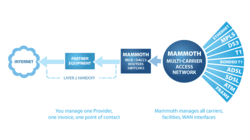 "The demand for a single-source network solution has landed us in a great niche. We hear from carriers we work with that we're doing something they've wanted to do for a long time - making it easy for the customer." Brian Worthen, CEO, Mammoth Networks
Denver, CO (PRWEB) April 26, 2011
Mammoth Networks announced additional aggregation locations for its expanding Ethernet network from Colorado Metro Connect today in Denver, where the company is the lead sponsor of the event. The company has added aggregation points in multiple cities across the United States, allowing Mammoth to support on-loading and off-loading of both Metro Ethernet and Long-Haul Ethernet in these additional Points of Presence.
The newest locations announced at Metro Connect include Boise, Idaho; Boston, Massachusetts; Chicago, Illinois; and Portland, Oregon. Mammoth has slated five more cities to be completed this summer, significantly expanding Mammoth's Ethernet capabilities in the telecom marketplace.
Mammoth now operates seventeen locations across the United States where the company can hand its Partners an aggregation circuit, providing access to Mammoth's multi-access platform. Mammoth is known for providing access to multiple data technologies and multiple telecommunication carriers on a single platform.
"This is an exciting time for Mammoth," stated Brian Worthen, CEO for the burgeoning company. "The demand for a single-source network solution has landed us in a great niche. We hear from carriers we work with that we're doing something they've wanted to do for a long time - making it easy for the customer."
Worthen explained that a carrier will have fiber to a building in Denver but no long-haul transport to reach a customer's building in Phoenix. Another situation he described was where a carrier has fiber to a customer in Denver, but the customer location in Seattle can't be reached by that same carrier. In comes Mammoth, who can take either scenario and make them work for both carrier and customer. In the first example, Mammoth purchases the Metro Ethernet in Denver and then transports the traffic to Phoenix, where they hand back to the carrier to reach the customer's building in Phoenix. Mammoth then presents the customer or the carrier a single invoice. In the second example, Mammoth purchases Ethernet loops from differing carriers in Denver and Seattle, and presents a single invoice to the customer.
In both scenarios, the carriers win because their solution is used and they retain an opportunity they might otherwise discard. Mammoth acts as the middle piece of a telecom puzzle. And, because Mammoth is facilities-based and operates their own equipment in each POP, the customer has a single-source for all troubleshooting and support.
Mammoth has typically partnered with Managed Service Providers and ISPs in the past, but has seen an increase in requests from Regional Carriers and Independent Local Exchange Carriers, or ILECs. This places Mammoth in a unique position, where Regional Carriers recognize the added value of interfacing with Mammoth, and Mammoth's existing Partners then gain access to another regional network.
Mammoth Networks is a facilities-based aggregator of wholesale data services, providing service across the contiguous 48 states and Canada. Mammoth simplifies Wide Area Networking by consolidating multiple access technologies and carriers onto a single network, and delivering to their Partners over a single interface. The privately-held company is based in Gillette, Wyoming.
# # #