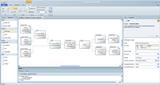 We have recently demonstrated the new expressor Studio version to our community users and got a big thumb up on the capabilities of the new release.

Dr. Michael Waclawiczek
VP, Marketing, expressor
Burlington, Mass. (PRWEB) April 25, 2011
expressor software, a leading provider of free and affordable ETL and data integration software, announced today that it will host a live demonstration of expressor Studio 3.2 on Wednesday, May 4th at 2:00pm EDT.
During this webinar, expressor's data integration experts will:

Discuss the new product capabilities in this latest version of expressor Studio
Demonstrate how to utilize these capabilities in a real-life ETL application scenario
Give you further inside into the expressor 2011 product roadmap
expressor will release version 3.2 of its data integration platform in early May 2011.
You can register for this upcoming live event by following this link.
About expressor software
expressor software knows data integration -- and we know today's most capable data integration tools are too complex and too expensive. Our vision is to provide enterprise-class data integration software that is cost-effective, fast and easy to use.
expressor's game-changing usability enables you to use less technical, lower-cost development resources. Our unique, active metadata foundation simplifies data mapping and transformation to reduce your time-to-value. And our dramatically lower cost makes it easy to justify replacing your brittle and expensive hand-coded implementations or underperforming in-house ETL tools. Version 3 of expressor is a comprehensive design, development and deployment platform tailored to support the full range of data integration applications, from tactical data migrations to data warehouses and predictive analytics.
To learn more about what makes expressor the leader in free and affordable, enterprise-class data integration, visit http://www.expressor-software.com or download the free expressor Studio at http://www.expressorStudio.com.
# # #