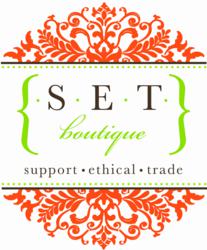 San Francisco, CA (PRWEB) April 25, 2011
SET Boutique is proud to announce that it has become a Certified B Corporation as of April 21st, 2011. The certification strengthens its purpose to promote alternative shopping options that will end modern day slavery and exploitation.
Certified B Corporations (B stands for 'Benefit') meet rigorous standards of social and environmental performance. The performance standards are comprehensive and transparent. They measure a company's impact on its employees, suppliers, community, and the environment.
"Becoming a B Corp proves that fashion can be ethical," says Lindsay Sullivan, SET Boutique founder. "People around the world can be paid fairly for the clothing we wear and companies can still be profitable. We champion sustainable business, and we view sustainability from many perspectives. Relationships with suppliers should be mutually beneficial with long term goals. The environment of both the company and the supplier should be protected in order to support long term health and growth for their communities. The B Corp assessment takes all these aspects into account and is aligned with SET Boutique's core values."
About SET Boutique:
SET Boutique stands for Support Ethical Trade, and is an e-commerce website specializing in fair trade and eco-friendly clothing, jewelry, bags, and home goods. We scour the globe for high quality, hand crafted products that have dynamic stories behind them. Our sourcing strategy is transparent and our customers have the benefit of learning about each product's producer and materials. SET Boutique also donates to like-minded organizations, and invites the customer to choose the organization when they spend $20.00 or more.
About B Lab:
B Lab is a non-profit organization that certifies and supports B Corporations.
B Lab drives systemic change through three interrelated initiatives: 1) building a community of Certified B Corporations to make it easier for all of us to tell the difference between "good companies" and just good marketing; 2) accelerating the growth of the impact investing asset class through use of B Lab's GIIRS impact rating system by institutional investors; and 3) promoting supportive public policies, including creation of a new corporate form and tax, procurement, and investment incentives for sustainable business.
###