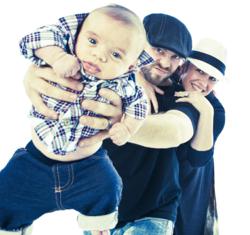 "We wanted to create a soulful record that would inspire mothers and families across the world, but to the melody of a mom who never gave up her stilettos!"
Los Angeles, CA (PRWEB) April 25, 2011
Singer and first-time mother Scarlett Cherry dedicates her new album to mothers everywhere. "Labor of Love" is a new album release that captures the singular experience of first-time Motherhood in a modern world. It is told through beautifully arranged and radio-friendly songs, driven by Scarlett's distinctive voice. The album's due date: April 26th, 2011 – just in time for Mother's Day.
In an era when fewer and fewer artists are being signed to major labels, those with a unique vision are taking matters into their own hands. That's what Scarlett and Lee Cherry did in the summer of 2010, when they decided to produce an album inspired by the impending birth of their first child. "We wanted to create a soulful record that would inspire mothers and families across the world," they said, "but to the melody of a mom who never gave up her stilettos."
Between them, the couple had the talent and skills required. Scarlett is a prodigiously gifted singer with an extensive career in musical theater and a previous album under her belt. Her husband, Lee Cherry is a noted celebrity photographer and co-creator and producer of Los Angeles' famed Zodiac Show, a popular spectacle once described as a "rock and roll Cirque du Soleil."
The Cherrys turned to Kickstarter, a Web-based funding platform that enables ordinary people to support creative projects. They set out to raise $6,500 for "Labor of Love," a sum which was quickly exceeded as supporters flocked to Kickstarter, many of them directed there by tweets from singer Adam Lambert, a long-time friend and collaborator in the Los Angeles underground arts scene. By the time the fund-raising period ended, the fans had donated more than $42,000.
Scarlett and Lee Cherry will share songs from 'Labor of Love', talk about the creative process and answer questions from listeners this Wednesday, April 27, at 10:00-11:00 PM EST, on Juneau & Xena's Salon, a Web radio program with a worldwide audience.
"Social media is going to be transformational for creative artists," say the show's co-hosts Juneau Underwood and Katherine Hollinsworth. "We ourselves would not be here without social media." The two women first met and became friends on a website before they decided to launch their own blog as well as the radio show. "Our mission is to advocate for a marketplace that values creativity and self-expression," they say.
The funding from the Kickstarter campaign enabled the Cherrys to produce the album, develop merchandise, and market their project. The album's focus on the experience of giving life – something universal yet rarely explored in art from the mother-to-be's perspective – combined with Scarlett's world class singing, attracted many talented songwriters and musicians in Los Angeles. Their collaborators include: Alisan Porter (The Canyons, Adam Lambert, The Zodiac Show), Ely Rise (Adam Lambert, Macy Gray) Ty Taylor (Rock Star INXS, Vintage Trouble, The Zodiac Show), Davy Nathan (Tony Braxton, Jason Derulo, Christina Aguilera), Monte Pittman (Madonna, Adam Lambert, Prong), Ilsey Juber (The Canyons), and Jordan Lawhead (The Canyons). It was co-executive produced and recorded at Media Temple Productions in Hollywood, CA.
The resulting album is an eclectic, appealing mix ranging from acoustic pop and blues to R&B, unified by Scarlett Cherry's sultry, supple vocals. Initial reactions to the album have been "overwhelmingly positive" the Cherrys say, and pre-sales "have far exceeded expectations." It goes on sale through the Labor of Love website on Tuesday, April 26, 2011.
"The energy during this creative process has been indescribable and the songs are absolutely magical," says Lee Cherry. "The songs will inspire mothers, but will also inspire anyone thinking of becoming a parent in today's fast-paced world." Or an artist, for that matter.
###