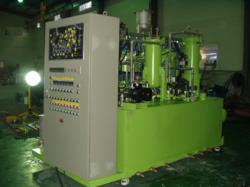 "This is the result of years of research and is the tip of the iceberg in the global demand for our technology"
Barrington, IL (PRWEB) April 27, 2011
EcoloCap Solutions Inc. (OTCBB: ECOS), an innovator of alternative energy products, announced the execution of a purchase agreement with Empresas Energy Partners Chile Generadora de Energia LTDA (EPC) for the shipment of an NPU-10 series fuel emulsion plant to Degan, Chile to produce M-Fuel for 30-45 days starting the first week of may.
Upon successful completion of the testing an additional three NPU-60 fuel emulsion plants will be purchased to provide fuel for the entire 40 megawatt station. EPC estimates their demand for M-Fuel will require a minimum of 36 NPU-60 fuel emulsion plants, which will amount to $27M in equipment sales over the next year and an annual income of close to $54M in additive sales for EcoloCap.
EcoloCap Solutions in party with their distributor, Fuel Emulsions International LLC (FEI), have been in negotiations with EPC for the last many months over the implementation of M-Fuel in Chile. EcoloCap Chief Operating Officer, Robert M. Egger Jr. met with FEI and EPC to secure the purchase agreement for testing M-Fuel on a series of MTU 16V4000 series engines. A purchase agreement was executed, formalizing the M-Fuel test project and the purchase of 3 NPU-60 emulsion fuel plants.
The NPU-60 emulsion fuel plant produces 18,000 gallons of emulsion fuel in a 24 hour period and is capable of emulsifying Diesel, Kerosene and other Heavy Fuel Oils (HFO). M-Fuel is an emulsion of 70% diesel and 30% water, plus EcoloCap's additive. Independent tests have indicated a reduction of particulate emissions of over 90% and NOx by 65% without compromising fuel volumes consumed. EPC expects to save a minimum of 20% on the costs of fuel by utilizing M-Fuel.
EPC is one of several providers in Chile using diesel and Heavy Fuel Oil for power generation. This project, which will be closely monitored by several other energy groups in Chile and South America, will establish M-Fuel in the power generation markets. To learn more about EPC, please visit their website at: http://www.empresasepc.cl/todo%20ingles.html
Robert M. Egger Jr. EcoloCap's COO states: "Execution of this contract is a critical step in proving the commercial viability of our product. This project will allow for companies all over the world to realize how beneficial M-Fuel is, not only from the cost savings associated with using our fuel but also from the important reduction in emissions. This test project allows us to have third party verification of the benefits M-Fuel offers in diesel power generation and all other diesel applications."
Michael Siegel CEO states: "Given the rapid increase in the price of diesel fuel, M-Fuel presents the ideal alternative. In large cities throughout the world municipal transportation authorities' annual fuel costs often exceeds more than $100,000,000. The utilization of M-Fuel would decrease costs, at today's diesel prices, by over $25,000,000. Additionally, M-Fuel obviates the need to install emissions reduction equipment or even the purchase of brand new equipment to meet recently enacted emission regulations."
About The Company: EcoloCap Solutions Inc. (OTCBB: ECOS) and its subsidiaries Micro Bubble Technologies Inc. ("MBT"), K-MBT Inc., are an integrated group of environmentally focused technology companies that utilize advanced nanotechnology to design, develop, manufacture and sell alternative energy products. Their portfolio of products and services include Li-Nano Battery, a rechargeable battery that surpasses the performance capabilities of any existing battery, MBT's M-Fuel, an innovative suspension fuel for non-gasoline applications that exceeds all conventional fuel's efficiency and the unique single step process for the production of Bio-Diesel. EcoloCap markets its products worldwide, directly and through agreements with distributors.
Company Contact Information:
EcoloCap Solutions Inc.
1250 South Grove Avenue, Suite 308
Barrington, Illinois 60010
Tel: (866) 479-7041
This press release may contain statements of a forward-looking nature regarding future events. These statements are only predictions, and actual events may differ materially. Please refer to documents that EcoloCap Solutions Inc. files from time to time with the Securities and Exchange Commission for a discussion of certain factors that could cause actual results to differ materials from those contained in the forward-looking statements.
# # #