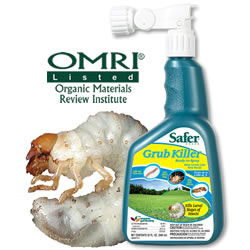 Safer® Brand Grub Killer is the natural and effective alternative for solving grub control problems
(PRWEB) April 27, 2011
Available in a convenient, ready-to-spray concentrate that attaches directly to a garden hose for easy application, Safer® Brand Grub Killer is designed to kill cinch bugs, Japanese beetles, Oriental beetles, June bugs, pillbugs, sod webworms and other common pests.
Unlike many lawn pest control products on the market, however, Grub Killer is organic. In fact, it has earned the respected OMRI Listed designation from the Organic Materials Review Institute, signifying the product is approved for use in organic gardening.
Grub Killer easily kills pests yet remains safe for organic gardening thanks to Neem oil, a powerful derivative of Neem tree seeds. The oil targets insects at the larval stage, destroying them before they have the chance to mature and reproduce. A single application lasts up to one week.
"Safer Brand Grub Killer is the natural and effective alternative for solving grub control problems," stated Justin Emig, Safer Brand category development associate. "This is an organic grub killer that really works."
Grub Killer is the latest innovation to demonstrate Safer Brand's ongoing commitment to organic gardening and natural control of pests and weeds. The leader in alternative lawn and garden products, Safer Brand helps gardeners solve their pest problems on the Safer Brand Facebook page. There, organic gardeners can exchange ideas and gardening success stories, obtain gardening tips and view how-to videos to help keep their gardens, plants and lawns healthy and free of pests year-round.
To encourage gardeners to experience effective organic grub control, Safer Brand is currently offering free shipping on orders over $45; Grub Killer is included in the promotion. Learn more at SaferBrand.com!
For more information, please visit:
• Our New Safer Brand Home Page
• Learn More About Grub Killer
• Shop SaferBrand.com
• Follow us on Facebook
About Safer Brand
We are Safer® brand, Concern®, and Victor Poison-Free® - three strong brands recognized as world leaders in the organic pest control, organic plant disease control and organic gardening categories! We offer the broadest and deepest selection of quality organic bug control and plant disease control products at competitive prices. Our organic gardening products are targeted to meet the varying needs of you, the consumer! So, whether you are an experienced gardener or novice, there is a product to fit each and every situation.
Safer Brand, has been trusted by consumers since 1976 and is a division of the Woodstream Corporation located in Pennsylvania.
About Woodstream Corp:
Woodstream Corporation is a long-standing, privately held company and a leading manufacturer and marketer of quality-branded wild bird feeders, rodent control products, caring control products for pets and wildlife and organic solutions for lawns & gardens.
###