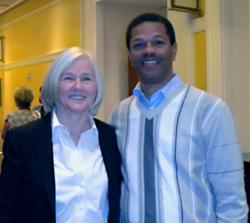 New York, NY (PRWEB) April 26, 2011
On April 21st, International Institute for Learning, Inc. (IIL) was honored by DiversityBusiness.com at the 11th Annual Multicultural Business Conference at the Gaylord National Resort. Conference sponsors included Dell, AT&T, Cisco and The Coca-Cola Company, and more than 1,200 participants attended the event. IIL was recognized along with organizations such as Apple, Verizon Wireless, Colgate-Palmolive and The Home Depot as a "Top Business" for Diversity and for their overall leadership and economic achievements.
2011 marks DiversityBusiness.com's 11th annual listing of the top businesses in the United States. The top business lists are a compilation of organizations which have revolutionized the strength of financial viability throughout communities across the nation. The winners have become a highly respected source of reference for corporations, government agencies and educational institutions who desire to increase opportunities with privately-held businesses.
"We have a great future ahead of us, especially as entrepreneurs continue to reinvent products and services that transform the way we live," says Kenton Clarke, CEO of Computer Consulting Associates International, the company that founded DiversityBusiness.com. "Our nation's business leaders are relentless. It isn't a mere coincidence to see our competitive spirit still alive and persevere under any circumstances."
E. LaVerne Johnson, CEO and founder of International Institute for Learning, says of the award, "IIL is very pleased to receive this honor from DiversityBusiness.com. Inclusion and diversity are not only core values for our company - they are integrated into the way that we do business. The diversity of the IIL global team reflects the diversity of the communities, cultures and industries that we serve, and this does more than give us a strong competitive advantage in the marketplace: it makes IIL a great place to work."
This List is a classification that represents the top privately-held businesses in the U.S., in sectors such as technology, manufacturing, food service and professional services. Large organizational buyers throughout the country that do business with multicultural, small and women-owned businesses use the list. The List is produced annually by DiversityBusiness.com, the nation's leading multicultural social media website that links large organizational buyers to multicultural product and service suppliers.
About International Institute for Learning, Inc. (IIL)
With operating companies all over the world and clients in more than 140 countries, IIL is a global leader in training, consulting, coaching and customized course development. IIL's core competencies include: Project, Program and Portfolio Management; Business Analysis; Microsoft® Project and Project Server; Lean Six Sigma; PRINCE2®; ITIL®; Leadership and Interpersonal Skills. Using their proprietary Many Methods of Learning™, IIL delivers innovative, effective and consistent training solutions through a variety of learning approaches, including Traditional Classroom, Virtual Classroom, simulation training and interactive, on-demand learning. IIL is a PMI® Charter Global Registered Education Provider, a member of PMI's Global Executive Council, an Accredited Training Organization for PRINCE2 and ITIL, a Microsoft Gold Certified Partner and an IIBA® Endorsed Education Provider. Now in its twentieth year of doing business, IIL is proud to be the learning solution provider of choice for many top global companies.
For information regarding IIL's products, services, curriculum, and webinars, visit http://www.iil.com or browse IIL's Digital Catalogue.
About DiversityBusiness.com
Launched in 1999, DiversityBusiness is the largest organization of privately owned businesses throughout the United States that provide goods and services to Fortune 1000 companies, government agencies, and colleges and universities. DiversityBusiness provides research and data collection services for diversity including the "Top 50 Organizations for Multicultural Business Opportunities", "Top 500 Diversity Owned Companies in America", and others. Its research has been recognized and published by Forbes Magazine, Business Week and thousands of other print and internet publications. The site has gained national recognition and has won numerous awards for its content and design. DiversityBusiness reaches more diverse suppliers and communicates more information to them on a more frequent basis then all other organizations combined. We also communicate with mainstream businesses, government agencies and educational institutions with information related to diversity. Our magazine reaches over 300,000 readers, a monthly e-newsletter that reaches 2.4 million, and website visitors of 1.2 million a month. It is a leading provider of Supplier Diversity management tools and has the most widely distributed Diversity magazine in the United States. DiversityBusiness.com is produced by Computer Consulting Associates International Inc. (CCAii.com) of Southport, CT. Founded in 1980.
# # #