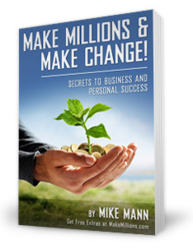 Lots of people think that they are smarter than their boss, if they are smarter than their boss then they should have their own business.
Dewey Beach, DE (PRWEB) April 26, 2011
Thinking about starting your own business? Entrepreneur Mike Mann said you should focus on what you know.
Your "best bet" to succeed is working in a field that you are passionate about, he said.
"Then again, if you did train for much of your life in one area, there is no assurance you wouldn't eventually decide to abandon that field and concept for any number of valid reasons," Mann explained. "So if you haven't trained your life for one business, your second best bet would be to go into a line of business that you are personally attracted to even if you are not currently experienced in that area."
In a webinar scheduled April 28, Mann, a self-described serial social entrepreneur, will offer advice for crafting a plan for starting a winning business.
He said another approach is choosing a random type of company after researching industries that are hot.
"Even if you have no personal interest or history in that particular industry," Mann added.
Be creative, he said.
"Pick an industry that is not fully developed but has a lot of potential," Mann said. "Think about less sophisticated or glamorous business niches since they are more likely to be overlooked by potential customers."
Mann's webinar will dovetail nicely with a presentation last March that explored the "job dilemma." Mann gave advice about when quitting your job is necessary for building a profitable business, while exploring the risks of quitting and how holding a job can prevent success. He wrote about those ideas in his book "Make Millions & Make Change! Secrets to Personal and Business Success."
"Lots of people think that they are smarter than their boss, if they are smarter than their boss then they should have their own business," Mann said.
Mann packs his webinars with insights that helped him become rich doing business on the Internet. He is the founder of Phone.com, SEO.com, DomainMarket.com, BrowserMedia, Yield Software and many other companies.
Next week he will have tips about designing logos and slogans for your company.
"The significance of this decision cannot be underestimated," Mann said.
This summer, those considering starting a business should have a stack of books in their hands as they head on vacation. Mann will identify gems from his past reading lists.
He explained that aspiring entrepreneurs study "profusely." Mann highlighted the magazines, newspapers and television shows that he relies on for the latest business news.
"You should keep your eyes and ears open for all types of ideas," according to Mann. "This informal research will lead to areas worthy of intensive research."
The webinar will also reveal ways market surveys are conducted and how companies get incorporated.
For aspiring entrepreneurs, Mann is a mentor. Read his ideas in "Make Millions & Make Change! Secrets to Business and Personal Success." The information is priceless, but the book is free. You can download a PDF copy or the audiobook at makemillions.com.
"My formula is really simple," Mann said. "It actually does work."
He will explain the techniques that made him a success during the April 28 webinar. The presentation begins at noon Eastern time. Register for the webinar at makemillions.com.
About Mike Mann and "Make Millions & Make Change!"
Mike Mann, a serial social entrepreneur, is the author of "Make Millions and Make Change!" a business book focused on finding success in small business while serving society. Mann is the founder and chairman of Grassroots.org, a global network providing free services to nonprofits and promoting social action. He also founded and manages the Make Change! Trust, a charitable fund that supports nonprofits. Mann is the founder of many companies including Phone.com, SEO.com, Skateboards.com, DomainMarket.com, Yield Software, BrowserMedia, PRMarketing.com, PurePPC.com and others. For more information, visit makemillions.com.
###