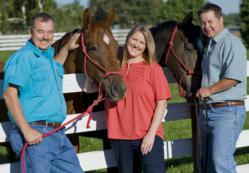 "People who buy our products are passionate about their animals and about making the world a better place."
Meridian, ID (PRWEB) April 27, 2011
Dynamite Specialty Products, which makes all-natural dog food, horse feed and nutritional supplements for most members of the animal kingdom, is donating $2,953.50 to the Idaho Humane Society as a result of the bowling competition at its recent distributors' conference.
Dynamite pledged to donate 25 cents for every point scored by a distributor on the bowling lanes, and distributors donated an additional $260 of their own money.
The event is in keeping with Dynamite's philosophy of combining business events and sales promotions with charity. Last year it pledged to give a pound of its natural dog food to the Idaho Humane Society for every new Facebook fan. It gained 2,790 fans, and rounded the number up to donate a total of 2,800 pounds of natural dog food, valued at $4,200.
Two years ago, the company offered its top distributors a choice of a personal prize such as a trip to Maui or double the value as a donation to charity. The result was $22,000 in charitable donations.
"People who buy our products are passionate about their animals and about making the world a better place," said CEO Callie Novak. "We attract people who are driven by projects that help animals, improve soil, save lives and make the world a better place. We knew that for many of them, giving to a charity actually would be more of a motivation than a personal prize or special offer."
A family‐owned business that has specialized in animal nutrition for four generations, Dynamite makes products for virtually every member of the animal kingdom. It has long developed food and nutritional supplements for prize‐winning working dogs and show horses across the country. Its Ultimate Dog Food is believed to be the only raw dog food on the market that needs no refrigeration.
Dynamite uses only natural ingredients, made in the United States for better quality control. Throughout its history, it has always looked at alternatives to animal by‐products, antibiotics, chemical preservatives, fumigants, artificial coloring and other additives that have later caused health problems.
Dynamite dog food, horse feed, vitamins and nutritional supplements, and other products are available through more than 4,000 individual distributors across the country.
Additional information is available at DynamiteSpecialty.com or by calling 1‐800‐697‐7434. Manufacturing facilities are in Idaho and in Des Moines and Westside, Iowa.
###