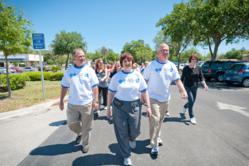 Workplace Wellness programs are not a passing trend – it is about investing in people and in good health so that good business and a healthy bottom line are all the more possible to attain.
Daytona Beach, FL (PRWEB) April 28, 2011
If you knew that for every $1 you invested, you'd see a return of $3.27, would you walk or run to grab a piece of that opportunity?
That significant return that most people would run for is the benefit that employers can expect to see from each dollar they invest in Workplace Wellness programs says The National Business Group on Health, a non-profit industry advisory group.
And when it comes to wellness and good health for employees, it is important to remember that good health is good health whether you work for a small "mom-and-pop" business, a massive corporation or any sized company in-between.
Workplace Wellness is important – crucial, in fact – to the health of the employee as well as to the health of the business," explained Mikelle Streicher, PhD, RN, Chief Marketing and Sales Officer for Florida Health Care Plans (FHCP), a leader in providing health care services and education in the area of Workplace Wellness with its WorkForce Wellness program. "Workplace Wellness programs are not a passing trend – it is about investing in people and in good health so that good business and a healthy bottom line are all the more possible to attain."
Good health is about good advice, the right resources and great support. In the workplace, good health means many things, including better concentration, reduced absenteeism and longevity with the company. Good health doesn't concern itself with the size of your workplace, but with habits and lifestyle day after day, year after year.
"It is important for people in Central Florida and throughout the U.S. to know that Workplace Wellness is not just for people associated with corporate giants," Streicher added. "Employees of any-sized companies -- and their families – should have access to everything they need to make healthy choices on a day-by-day basis and to create the right lifestyle over the long-run. Not only will their physical body thank them, but so too will the bottom lines of the company they work for or own. That's why investing in the health of the people who work for you is a 'win-win' for employers and their employees."
As a leader in providing resources to its group and individual health care plan holders, FHCP offers them a members-only portal and a "Welcome to Wellness" program, with access to customized recommendations and information to fit their lifestyle, any individual health issues or concerns and their goals. Also, for those who are looking for more connection and support, FHCP invites everyone to take a look at their Facebook page here: http://www.facebook.com/floridahealthcareplans.
About Florida Health Care Plans:
FHCP is the oldest federally qualified HMO (Health Maintenance Organization) in Florida and the second-oldest HMO in the United States and is able to provide full-service health insurance solutions to individuals and employer groups in Volusia and Flagler counties in east central Florida with individual health insurance, group health insurance, Florida Healthy Kids and Medicare plans. Since its launch in 1974, FHCP has enjoyed a solid, well-earned reputation for high quality care at affordable prices. Since 1981, FHCP has been contracted with the Centers for Medicare and Medicaid Services (CMS) and as of 2009, is part of Blue Cross/Blue Shield of Florida as an independent licensee, providing members with nationwide and global access to BCBS' highly regarded and accessible Blue Card network. FHCP is also proud to be a recognized and trusted member of the community, having been ranked as one of the Top 100 Health Plans in the nation and voted the #1 HMO/Health Plan in Florida's Volusia and Flagler Counties for the past 20 years.
About FHCP's Workforce Wellness Programs: FHCP partners with employers of all sizes to deliver healthcare that is quality-driven, affordable and beneficial to the physical and financial bottom lines of all employers. Through a Members-Only Portal and extensive Workforce Wellness programs and resources, FHCP is committed to remaining a leader in the pursuit for healthy individuals and healthy employees.
###