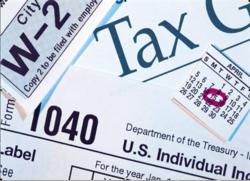 The IRS says 81 million tax refunds were processed by early April 2011.
East Hartford, CT (PRWEB) April 26, 2011
As taxpayers experience a now-you-see-it, but now-you-don't economic recovery year, many have decided the time of waiting for a long-deferred vacation has gone on long enough. According to a recent consumer survey, they are making travel plans. Fortunately, the Internal Revenue Service last week reported a smooth 2011 processing cycle for 2010 federal income tax returns, with 96 million total returns resulting in 81 million tax refunds processed as of early April. IRS added that a total of $234 billion in tax refunds have been processed toward an expected year's total of almost $300 billion. The IRS estimate of a $3,000 average refund check this year is slightly more than the average $2,978 check that IRS said it processed one year ago.
Travel Insured International®, the leading independently-owned travel insurance provider, wants to raise taxpayer awareness that post-recession travel should be a rewarding, rejuvenating experience, but it will be a depressing one when a taxpayer blows an IRS tax refund by being forced to cancel a vacation for which he or she failed to obtain trip insurance coverage. The travel company Travel Leaders surveyed 953 consumers between March and April 2011, revealing that 57 percent of the taxpayers plan to use at least part of their refund checks to buy travel, with more than 80% saying they will spend more on a vacation this year than last. Prudent travelers, however, will recognize that after they have waited for both a deferred, post-recession vacation and the IRS tax refund to pay for it, 2011 is no time to book a vacation without the benefits of a travel insurance plan.
Find a Refund and Watch for the Dirty Dozen
Taxpayers protecting their vacation plans following tax season should include Trip Cancellation / Interruption coverage, a key component of each plan from the Worldwide Trip Protector product line from Travel Insured International®, The coverage will protect the hard-earned nest egg from IRS that helped fund their trip. Worldwide Trip Protector products ensure that if illness, an accident, a job loss, a travel supplier bankruptcy (in most plans), or other covered reason forces policyholders to cancel or cut short their trip their vacation investment can be saved.
Travelers awaiting their income tax refund before booking a trip can take a key first step by checking the Internal Revenue Service web site (http://www.irs.gov) for helpful advice.
Taxpayers can click on "Where's the refund?" to go to a status tool page for making a simple inquiry about their recently submitted return and its tax refund. Travel Insured International® recommends that travelers also pay close attention on the IRS home page story titled "Don't Fall Prey to the 2011 Dirty Dozen Tax Scams" for useful information on how to avoid ID thieves, tax refund scams, and tax preparation fraud, among other traps.
About Travel Insured International®
Travel Insured International®, based in E. Hartford, CT, was founded in 1994 by the foresight of insurance industry executive Peter Gehris when he acquired the travel protection division of the Travelers Insurance Company. Coverage is underwritten by Arch Insurance Company (a Missouri corporation, NAIC #11150) with executive offices located in Jersey City, NJ. Arch Insurance is rated A ("Excellent") for financial strength by the insurance rating service A.M. Best. Not all insurance products or coverage is available in all jurisdictions. Coverage is subject to actual policy language
Travel Insured International®
52-S Oakland Ave.
E. Hartford, CT 06128-0568
Contact: John Stone
Media Relations Manager
###