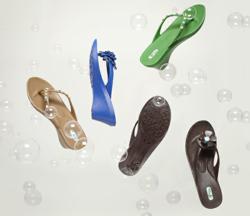 "These are the most comfortable sandals I've ever worn in my entire life."

Carmen H., New York City
Atlanta, GA (PRWEB) April 27, 2011
Just in time for summer, U.S. based eco-chic sandal manufacturer, OKA b. announced a first for the company -- a 2.5 inch summer heel, giving loyal customers a lift from their traditional flats and flip-flops.
Embellished with natural stone, gems and summer flowers in dozens of vibrant colors, the summer heel is anticipated to be a standout among the OKA b. collection.
Priced at a cool $40 retail, the Jane heel comes in Salt, Popsicle Pink and Licorice and is adorned with an enamel patent flower. Also offered is the Coco in Pearl, Copper and Twilight with crystal pendants, the Mona in Cobalt and the Astrid in Hot Chocolate with Coconut Flowers, all priced at $40.
Manufactured just outside of Atlanta in Buford, GA, all OKA b. sandals are manufactured using recyclable materials. The company has an active recycling program where customers can send back their well-loved sandals where they will be turned into new product. The shoes are antimicrobial, waterproof, and designed to pamper the foot with massage beads.
Recently featured on CNN, more information on the company's no-waste factory and manufacturing process can be found here:
OKA b. CNN
For additional information, summer samples for editorial coverage or retail information, visit http://www.shoesthatloveyou.com.
###