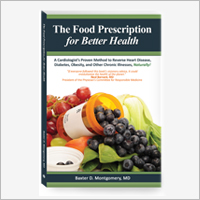 Chronic illnesses such as heart disease and type 2 diabetes can often be reversed through nutritional intervention. The Food Prescription for Better Health explains how.
Houston, TX (PRWEB) April 28, 2011
Montgomery Heart & Wellness is happy to announce the release of Dr. Montgomery's book, The Food Prescription for Better Health. Dr. Montgomery, an experienced cardiologist, has been helping patients reverse chronic conditions like heart disease and type 2 diabetes for years. In the book, he explains how nutritional intervention is often more effective, less expensive and less dangerous than the current standard practices of medicine.
T. Colin Campell, PhD , the author of The China Study, writes, "This is a very important book, both for general practitioners and for patients, and it needs to be in the waiting room of every doctor's office in the country. Dr. Montgomery writes from his heart because he really cares about his patients. Skip the drug store, get this book and you will have the best of all prescriptions!"
Dr. Joel Fuhrman, author of Eat to Live, says about the book, "Modern cardiology has failed. Coronary bypass and stenting has been demonstrated in meta-analysis to do almost nothing to extend lifespan and protect against future heart attacks. Now we have evidence to demonstrate heart disease can be prevented and even reversed through nutritional interventions, averting future heart attacks. Dr. Montgomery is the cardiologist leading the charge to a new standard of practice—one that saves lives. Imagine if cardiologists all over America taught their patients about nutritional excellence as a means of treating heart disease? It would save an untold amount of suffering and human tragedy."
The Food Prescription for Better Health explains how our diet contributes to the myriad chronic illnesses that we face. Often there is much confusion about what constitutes good nutrition, and people do not realize how much what they eat contributes to heart disease, diabetes, cancer and dozens of other illnesses. This book cuts through the confusion to explain how we can remove toxins and harmful foods and replace them with optimal nutrition.
Dr. Montgomery has seen countless patients achieve extraordinary results just from changing what they eat. On a regular basis, patients are able to discontinue blood pressure medication, insulin, and a wide variety of other medications. In The Food Prescription for Better Health, he provides the same nutritional advice he gives his patients. Included are recipes, a meal plan and answers to common questions people have when making this important lifestyle change. Additionally, the book explains how and why the food classification system works. Statistics are provided, showing how people who have followed the program have had measurable results in just four weeks.
About Dr. Baxter Montgomery
Baxter Montgomery, M.D. is a board certified cardiologist and cardiac electrophysiologist who has developed a groundbreaking health care delivery model that reverses chronic illnesses and saves money. He has founded Montgomery Heart & Wellness, a cardiology practice that combines integrative therapies with aggressive nutritional intervention. Montgomery Heart & Wellness offers a nutritional boot camp, online membership, and a variety of other wellness services. The Montgomery Heart & Wellness website offers resources such as a diet plan for diabetes and a guide to how diet can treat heart disease.
Dr. Montgomery is also a Clinical Assistant Professor of Medicine in the Division of Cardiology at the University of Texas Health Science Center at Houston and a Fellow of the American College of Cardiology. He does his clinical work in the world renowned Texas Medical Center and manages patients with arrhythmias and coronary artery disease, performs angiography, defibrillator implants, and other hospital procedures. He also teaches young physicians training in general cardiology and cardiac electrophysiology.
###