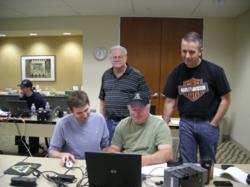 Steven Ayars - Vineland Municipal Electric Utility , "Really enjoyed this class. The instructor did an excellent job."
Saint Louis, MO (PRWEB) April 28, 2011
Realizing that in the maintenance and engineering fields there is a constant need to update training for new technologies all the time, Business Industrial Network the leading source for on-site engineering and maintenance training is aiming to fill that need by offering advanced engineering training courses concentrating on the latest new technology available.
The Process Automation Controller (PAC) is a revolutionary new system, unlike the traditional PLC, offering open and modular architectures. This type of compact controller combines the capabilities of a PC-based control system with that of the PLC. That is why the difference between PAC and the PLC require additional training for employees to work with PACs safely and reliably.
Business Industrial Network is announcing the starting of the first Process Automation Controller training seminar to take place at their HQ in St. Louis, Missouri, on June 28th. After a long time of offering Controllogix seminars at their regional Denver, CO, location, BIN is finally bringing the PAC Seminar home to their St. Louis HQ as a 3 day training seminar/workshop using the AB PAC system. This workshop will be held in the state of the art training facility located in the Microsoft building. The attendees will get hands-on training with the AB ControlLogix hardware and Rockwell Software's RSLogix 5000. More information about this seminar can be found at …
http://www.bin95.com/seminars/process-automation-controller.htm
This training seminar helps providing a better understanding of the Process Automation Controller (PAC) and explains the differences between it and the Programmable Logic Controller (PLC). This seminar is an introductory level of training which covers the fundamentals of the PAC and step by step ControlLogix troubleshooting procedures. AB's ControlLogix is a modular system that provides discrete, process, batch, motion, safety and drive control applications with the ability to program it using ladder logic, structured text, function block diagram and sequential function chart. BIN strongly recommends attendees have a PLC training and/or experience before joining the PAC training seminar to have a more strong foundation and to better understand the PAC seminar material.
For companies interested in updating their employees' technical skills and for individuals wanting to meet the requirements for working with a ControlLogix system, check the above link for seminar details and to register.
About Business Industrial Network (Video)
Business Industrial Network's (BIN95.com) core business is delivering world class on-site engineering and maintenance training. With over 150 facilities for local training, Business Industrial Network delivers off-site maintenance training in major cities across the United States. Working closely with their partners, Business Industrial Network offers a comprehensive suite of maintenance, management, mechanical and electrical training solutions, videos courses and real world interactive training software.
Business Industrial Network
http://www.BIN95.com
BIN95(at)BIN95(dot)com
2 Cityplace Drive, St. Louis, MO 63141
# # #