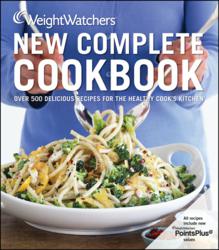 (PRWEB) April 25, 2011
Summer is just around the corner. With busy summer schedules that include BBQ's, beach days and picnics it's timely that the Weight Watchers New Complete Cookbook, 4TH Edition (Wiley Binder; $29.95; December 27, 2010), currently available in print, will be available as an eBook ($14.99). The eBook version provides on-the-go accessibility to healthy meal planning wherever you are this summer. No extra room in the suitcase needed. All year long it's easy to enjoy meals with family and friends-holidays or everyday-with these tempting recipes that both beginners and experienced cooks will love.
Several key changes were made to the Weight Watchers New Complete Cookbook, 4TH Edition eBook to optimize the reading and cooking experience on e-readers and tablets. The Table of Contents and opening pages of every chapter are hyperlinked to help readers navigate directly to a desired recipe. The beautiful color photos throughout can be enlarged to full-screen on supported devices. All cross references are hyperlinked to provide seamless ways to navigate from recipe to recipe. And every recipe is complete with PointsPlus® values that link to an indexed list of recipes with the same values, making it easy to stay on track and find the recipes you need.
Weight Watchers New Complete Cookbook, 4TH Edition has been completely revised and updated to reflect the way Americans are eating today. Packed with 500 delicious and nutrition-conscious recipes, this new edition of the cookbook helps people stay on track and achieve their weight management goals, including information and values for those following the new PointsPlus® program.
Home cooks will find recipes from the simple and satisfying smoky grilled brisket and creamy mashed potatoes to new classics like carmelized onion, fig and stilton pizza and tempeh, sweet onion, and mushroom chili, there are plenty of fresh ideas for breakfast, lunch, dinner and everything in between. A new chapter with slow cooker recipes makes preparing a healthy meal easier than ever, and all recipes include more whole grains and vegetables for meals that can help you stay fuller longer.
This comprehensive guide has everything needed to cook and eat in a healthier way:
o Hundreds of tips throughout offer guidance in the kitchen and more detailed information on ingredients and preparation
o Helpful how-to sidebars, fully linked in the eBook for easy discoverability, demystify techniques with detailed step-by-step instructions and images that demonstrate critical steps
o Complete nutritional information, including PointsPlus® values, included with every recipe with links to an Index of PointsPlus® values in the eBook
o New skill level icons identify which recipes are basic, intermediate and advanced
With a vibrant new design and over 80 full-color recipe photos and illustrations, Weight Watchers New Complete Cookbook, 4TH Edition (available in print and eBook formats) brings a fresh and contemporary spin to the trusted Weight Watchers name and offers hundreds of simple mealtime solutions the whole family can enjoy together.
About Weight Watchers International, Inc.
Weight Watchers International, Inc. is the world's leading provider of weight management services, operating globally through a network of Company-owned and franchise operations. Weight Watchers holds almost 50,000 meetings each week where members receive group support and learn about healthy eating patterns, behavior modification and physical activity. WeightWatchers.com provides innovative, subscription weight management products over the Internet and is the leading Internet-based weight management provider in the world. In addition, Weight Watchers offers a wide range of products, publications and programs for those interested in weight loss and weight control.