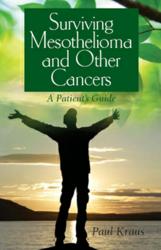 Paul Kraus' book has all the information a cancer patient needs to have in order to learn what survival behavior is about.
(PRWEB) April 26, 2011
This year, Paul Kraus will celebrate 14 years of survival after being diagnosed with mesothelioma. In 1997, Kraus and his family were shocked to learn that he had been diagnosed with mesothelioma, the asbestos caused cancer, and given only a few months to live. His doctors were pessimistic about his chances with few treatment options being available and his condition considered as "terminal." But Kraus was determined not to lose his life to mesothelioma.
Working with clinicians who specialize in cutting-edge and integrative approaches, Kraus created his own path to health. This path focused on many non-conventional modalities including intravenous vitamin therapy, Traditional Chinese Medicine, nutritional therapy, and mind-body medicine. Today, 14 years after being diagnosed, Kraus enjoys a good quality of life.
Kraus has written a book that details his experience – Surviving Mesothelioma and Other Cancers: A Patient's Guide. This book offers practical advice on what he did to beat the odds so that others can too. Subjects covered include: questions for your doctor, treatment options, the doctor-patient relationship, support groups, meditation, personality, stress, cancer, the power of positive thinking, conventional and complementary therapies, nutrition and diet, living with cancer and reasons for hope. Dr. Bernie Siegel, M.D. said, "Paul Kraus' book has all the information a cancer patient needs to have in order to learn what survival behavior is about. He has lived the experience, is a native in 'cancerland,' and can guide you through the territory."
To provide additional information on mesothelioma for patients and their loved ones, the Surviving Mesothelioma website was established. This website is the premier source of information about this disease and presents information on the latest treatments, doctors, survivors and research on mesothelioma. Recent mesothelioma news stories covered by Surviving Mesothelioma have included: Surgery is Inappropriate for Some Mesothelioma Patients, Mesothelioma Rare in the Pre-Asbestos Age, Photodynamic Therapy – A New Light For Mesothelioma Patients?, A 'Breath of Hope' for Mesothelioma Diagnosis, Drug May Improve Chemotherapy for Mesothelioma and Antioxidants May Help Fight Mesothelioma.
Every person diagnosed with this cancer has reasons to hope. As Paul Kraus reminds us, "a diagnosis is not destiny" and doctors do not have a "crystal ball." For more information on Paul Kraus, his book, and the Surviving Mesothelioma website, please visit: http://www.survivingmesothelioma.com
# # #